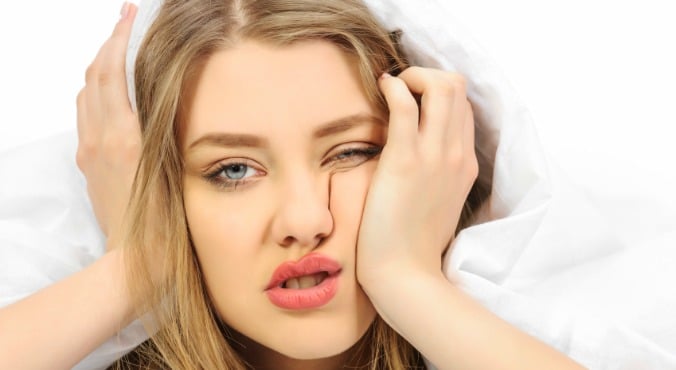 Image via iStock.
Every now and then I catch myself in a PLOM moment—that's Poor Little Old Me.
I sit, I pout, and I work myself up about whatever it is that's raining on my parade at present.
It's a highly effective way to stay down, I must admit, works every time. The more I focus on the problem, the sh*ttier I feel. Empty, sick, tired, sad, lonely, whatever lacking emotion-of-the-moment it happens to be, I can grow it, quickly, with nothing more than my own thoughts.
Got a parking ticket? Probably going to be late to my meeting now. Late to my meeting? Now I missed all the important details and I'm already behind. Now that I'm behind, I won't finish my list today, and since I won't finish my list, I'll have to work late, and…
See where I'm going here? Do you also see, however, how I manifested that for myself? I asked for the rest of my day to go to sh*t, I expected it, and that's exactly what I got.
My thoughts literally created my reality.
Here are 14 good habits that might get your day off to a better start. (Post continues after video.)
However, If A is true, then so is B. Meaning, if I can co-create a bad day, the same holds true for a good one. All it takes is a simple shift in attitude.
However number two: this can be easier to say than to do. Especially because when I'm in a dark place, cheerful people can annoy me, rainbows are stupid and unicorns are for people who don't have real jobs with real hours and real obligations.
When I hit PLOM mode, I want solutions, fast. I don't want to think, I don't want a hug (get off of me), and I don't want to hear about your bright sunshiney day, yet.
So, here's what I've figured out, for those moments when I've temporarily lost my perspective and the ability to laugh at myself. A "more please" Toolkit, if you will.
1. Rant
Go for it. Let it out. Then zip it. It's gone, done, over, and no longer has an invitation to be at your table. Dear problems, #youcan'tsitwithus any more.