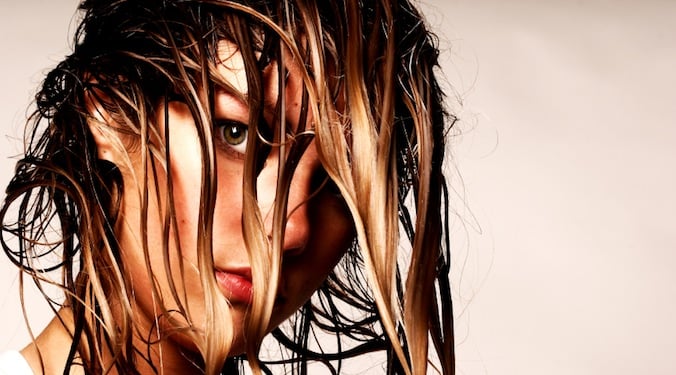 Image: iStock
In my daily desperate attempt to be more organised, I (in my head) break down my morning routine into the various chunks of time it takes me get ready, i.e. 10 minutes for shower, 15 minutes to blow-dry and style hair, 10 minutes for makeup, 25 minutes time wasting on Facebook/Instagram/email, plus one hour to get argumentative toddler fed, dressed and off to daycare.
RELATED: 6 ways to trick yourself into being a more organised person
Basically, this is how I figure out what time to set my alarm. Then, as always, I hit the snooze button over and over again, mentally crossing off things that I will just have to forego because: sleep. First to be struck off the list is always my hair. Always.
So, not surprisingly, over the years I've established a couple of go-to hair-dos that have managed to fool most of my friends and colleagues into thinking I spend hours getting ready. Let me share them with you, now that we're mates and all…
1. Brushed-out Old Hollywood waves
Dirty hair scale: Light grease
Time needed: Seven minutes
Tools: Dry shampoo, hair straighteners or tongs, bristle brush.
Products: Batiste Dry Shampoo in Brunette, 150ml, $8.99; L'Oreal Elnett Satin hairspray in normal strength, 75ml, $3.69.
The trick is to curl big sections of hair; this saves a whole bunch of time and creates more of a loose wave than a tight curl. Start with a quick spray of dry shampoo at the roots, then bush though the hair to smooth. Part your hair on one side, then section it half up/half down. Take large two-inch sections of hair and run through the iron, curling the same direction all over. No need to be super-precise as you only want a light wave. Brush out curls at the end with a bristle brush – A classic Mason Pearson is my personal fave. The bristles on the brush will smooth the follicles, giving you smooth waves, not fluffy, curly boof. A little bit of greasy build up at the roots will actually make this style look much better, so dirty hair is a bonus. Finish with a bit of hair spray to set.
2. Boho sexy-time bed hair
Dirty hair scale: Moderate grease
Time needed: Five minutes
Tools: Hot irons
Products: VO5 Give Me Texture dry texturising spray, 200ml, $7.69; Matrix Mega Dust, 7g, $16.95
I like to think this style is the natural descendent of beach hair and just-been-shagged hair. Anyway, it looks hot and is so stinkin' easy to do! In fact, this is a style that you can actually prep for at night before going to bed, thus saving you even more time in the morning. To begin, divide the head into three (or four, or even more, if you want tighter waves) sections and spray roots with dry shampoo or texturising spray. Then plait (or braid if you know how) each section and go to bed.