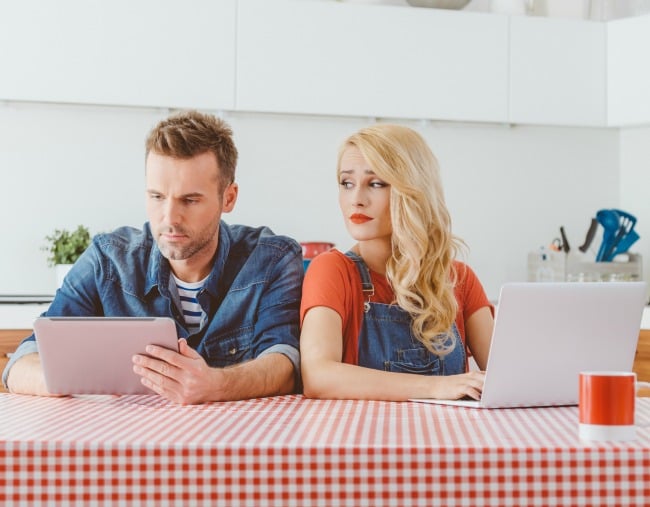 Your partner has started getting weird on you. They're dodging your questions, keeping you from looking at the mail and taking out large sums of cash without reason.
They could be cheating on you – but it might not have anything to do with another woman.
Financial planner James Trethewie – who just so happened to be one of the men vying for Sophie Monk's heart on The Bachelorette last year – says these are all major red flags you're a victim of financial infidelity.
Listen: Sexual psychiatrist explains to Mia Freedman exactly why it is that happy people cheat, on No Filter. (Post continues.)
The signs of financial infidelity
As James explains, financial infidelity covers any kind of spending or money issue a partner is trying to keep hidden, like credit card debt, gambling problem or even an addiction to Michael Kors handbags.
He tells Mamamia if you notice your partner doing these things, it's time to worry approach them for a frank conversation about finances.
Weird behaviour.
Similar to romantic infidelity, secretive behaviour, inexplicable changes in routine, mood shifts or a noticeable (and again unexplainable) change in stress their level could all be signs they're hiding something.
Big cash withdrawals.
"If you're looking at your statements and you're seeing big or frequent cash withdrawals and you don't know what they're for, it's a sign something might be up," James, who writes for Financial Planning Association of Australia's newsletter Money and Life, says.