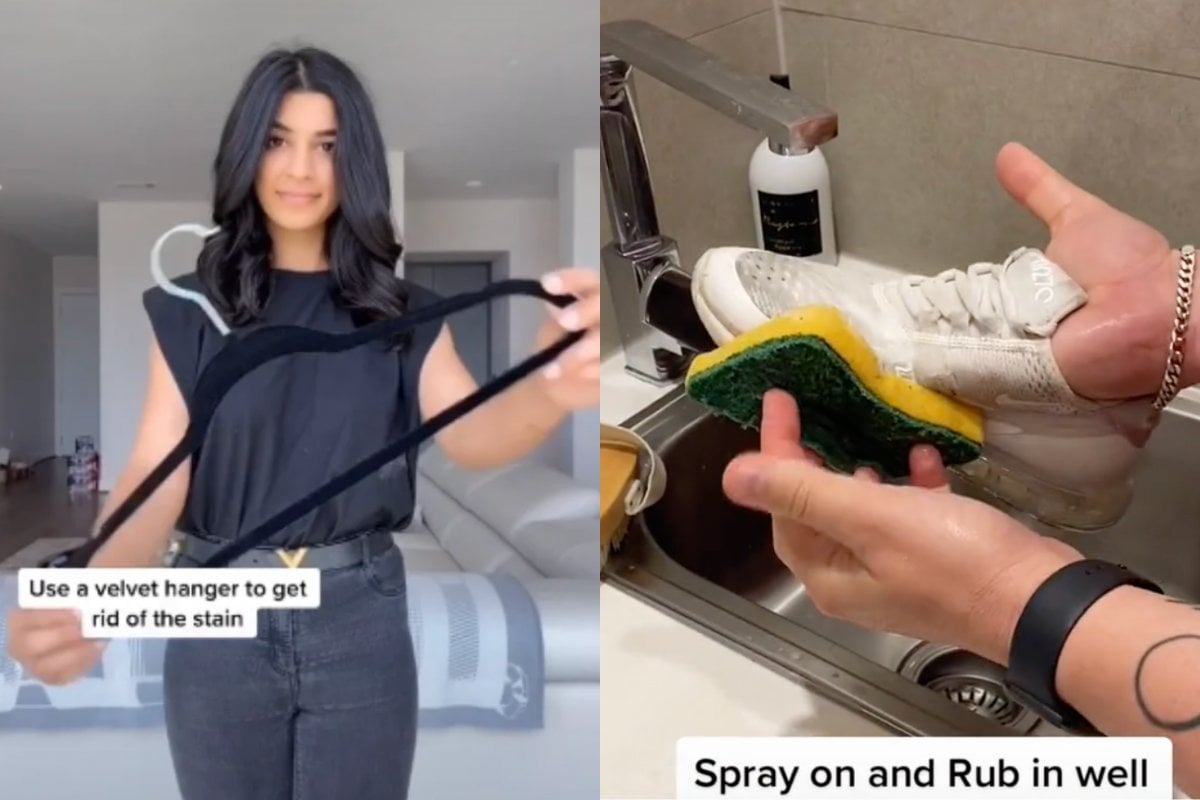 We've all been there. 
You're just about to leave for work and you look down to find a big ol' foundation stain on your brand new white top. 
In a panic, you reach for whatever's closest to you and start rubbing it out. However, you quickly realise the rule is actually to dab, and you have in fact made it 1000 times worse.  
At this point, you're left with a giant mess on your shirt much bigger than the one you had to start with... joy. 
Watch: Stain hacks. Post continues below. 
Thankfully, there's actually a really simple way to remove make up stains (and just about anything else you spill on your shirt). 
And like all good hacks, they're brought to us by the clever people of the internet (and the Mamamia community of course).
From makeup stains to shrinking, here are eight handy clothing tricks they keep up their sleeves for when things go wrong. 
How to make dirty white sneakers white again.
It turns out there's a three-step-solution to bring your dirty white sneakers back to life.
Australian mum Dee shared the hack to her TikTok, explaining all you need being a pre-wash spray, bicarb soda and a washing machine.
How to get wrinkles out of your clothes... without ironing.
Precisely no one enjoys ironing. So if there's any way to avoid it, you bet we're down to give it a go. 
Thankfully, Melbourne mum-of-two Chantel Mila has shared three simple ways to get wrinkles out of your clothes without lugging your ironing board out of the cupboard. 
In a video posted on Instagram, Chantel explains you just need an ice cube and your own 'DIY crease releaser' spray.