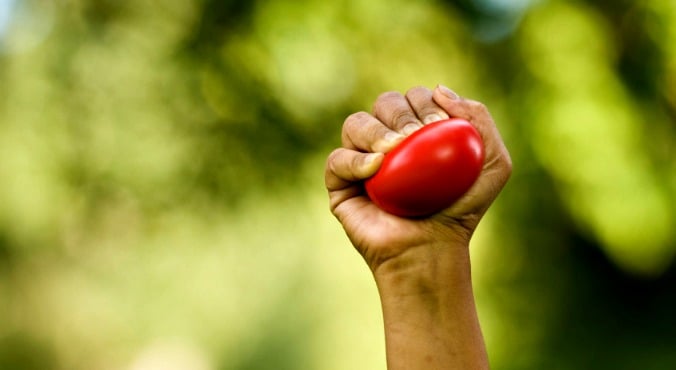 Image: iStock. By James Kirby, The University of Queensland and Stan Steindl, The University of Queensland. 
You're at the park with the kids. Everyone's having fun, and then a strange dog appears. There's no owner around. It's eyeballing the kids. Immediately your threat system becomes activated.
You stand alert, fully focused on the dog; heart racing, fists clenched. The dog bolts in, baring its teeth, and you pounce. You're in survival mode, full of rage and violence. You yell fiercely, and you kick and hit, or grab the dog by the scruff of the neck, not caring if you snap its jaw.
The dog yelps its surrender and flees, while you stand guard in front of your children.
This type of anger and aggression is the "fight" side of the "fight or flight response". This physiological response, according to evolutionary psychology, prepares our bodies to fight off a threat or to flee.
It's such an important part of human survival, and yet it can come at a cost for modern humans. Anger, and aggression in particular, can have serious consequences when it manifests in violence on the streets, in the home and elsewhere in the community. (WATCH: Feeling stressed? Here are some quick yoga moves to practice on your lunch break. Post continues after the video.)
We all get angry.
Anger is one of the seven universal emotions that are common across gender, ages and cultures, according to leading emotion researcher Paul Ekman. Anger, he says, can be the result of something interfering with us achieving a goal we care about, or when we experience or perceive something threatening to us, either physically or psychologically.
Anger is quick (think of the term "short-tempered"), it focuses all of our attention on the threat, and it manifests in our bodies, usually starting in the pit of our stomach, rising up to our face and causing us to grimace and clench our fists. When anger builds, it's expressed physically with a yell, punch or kick.
In the short term, anger can be powerful and rewarding; the person who is angry typically gets what they want.
But do you like being in the company of an angry person? Most people say no, and that is one of the chief consequences of anger: it is often damaging to relationships and isolating for the angry person.