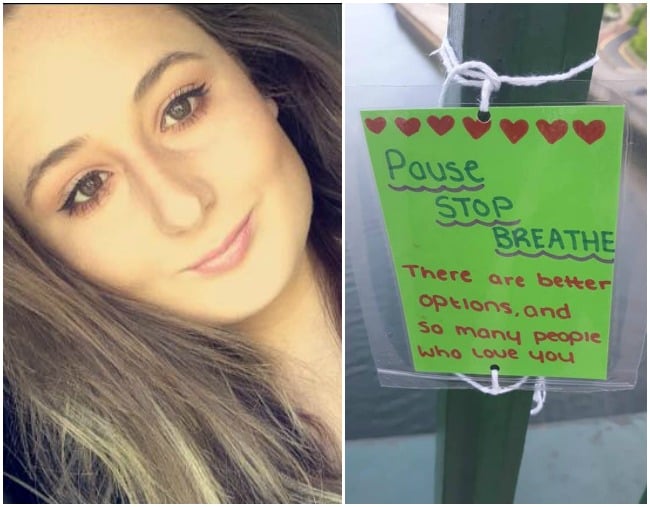 Warning: This article deals with mental illness and suicidal thoughts.
Paige Hunter knows what it's like to wade through the darkness of mental illness. She has been there herself.
So after coming out the other side, the British 18-year-old decided she wanted to help others in her local community feel less alone.
And she found an utterly beautiful way of doing so: by placing 40 handwritten notes on the Wearmouth Bridge in her city of Sunderland to comfort people in their time of utmost need.
Incredibly, within about two weeks since tying her messages to the bridge railings, at least six lives were saved. The figure is both a tragic reminder of how widespread mental illness is, but also of how even small acts of kindness can bring solace to those in crisis.
"Have seen posts around lately of people going round and putting notes on the bridges. So I decided to do a place that is exactly not the best place for me… A lot of bad experiences have happened and I'm not ashamed to say it," she wrote on Facebook on June 28.
Hunter said she wanted the notes to show that it was "actually alright to not be okay" and for each person to know "they are worthy of living".
"It was emotional as I was placing them people came up to me and told me their story, and I just want to say if you see this, no matter how hard life gets you have to keep on pushing… I know it may not be great right now but it will all be okay in the end, I promise you that."
Among the dozens of notes penned by the student are messages such as:
"Even though things are difficult, your life matters; you're a shining light in a dark world, so just hold on."

"Don't you dare give up on your life. Not today. Not tomorrow. Not ever."

"The world is much better with you in it."

"I know you're tired. I know you're physically and emotionally drained. But you have to keep going."

"I'm not telling you it is going to be easy. I'm telling you it's going to be worth it."
The efforts of the teenager have so inspired the community, it didn't take long for the police to take notice.
On July 19, she was awarded a commendation certificate by Northumbria Police.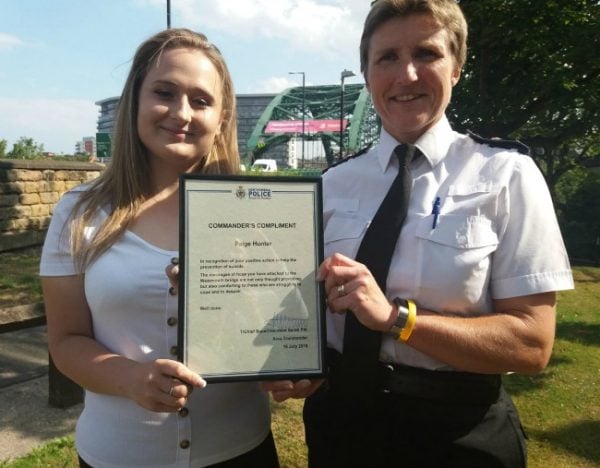 Chief Superintendent Sarah Pitt said she felt it was important to applaud Hunter's work.
"Paige has shown an incredible understanding of vulnerable people in need of support, and this is an innovative way to reach out to those in a dark place," Chief Supt Pitt said.
"For somebody so young, Paige has shown a real maturity and we thought it would only be right to thank her personally. She should be very proud of herself.
"It is important that we encourage people to speak out and raise awareness of mental health issues and the impact on peoples' lives."
After receiving the award, Hunter said the response had been "amazing" to her.
"I wasn't doing this for an award; it was just something that I wanted to do."
Hunter has now launched a GoFundMe campaign to raise money for British mental health charity MIND.
If this article has raised any issues for you, you are urged to call beyondblue on 1300 224 636 or Lifeline on 131 114.