In this, Mamamia's first annual Never Forgotten: Mamamia's Pregnancy Loss Awareness Week, we have tried to offer hope to those who've lost a baby, from those going through it right now to those still grieving as time passes.
But what about those of us touched by a loss through a friend or relative, those who want to reach out and help but don't know how?
Women who haven't been through the loss of a child may not understand exactly how deep their friend mourns the baby they never got to know but they might want to help in the right way. In a way that matters.
This week, as part of Never Forgotten: Mamamia's Pregnancy Loss Awareness Week we're remembering the babies we've lost. Post continues below.

Heartfelt photographers:
Heartfelt is a volunteer organisation of professional photographers from all over Australia and New Zealand who help families with stillborn babies and terminally ill children. This dedicated group of photographers take photos for families of their babies so they have memories to look back upon.
As they are a charity organisation they rely on donations. You can help many families by donating to Heartfelt in the name of a friend who has come home from hospital without her baby.
Vist Heartfelt here.
Angel Gowns: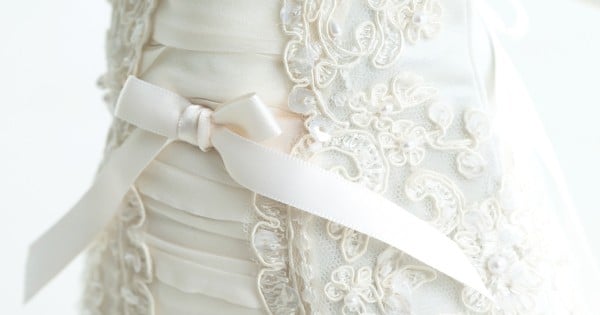 Angel Gowns transforms donated wedding dresses into gown for babies who didn't make it. Image via Angel Gowns.
Every day in Australia, six families experience a still birth.
That is six families who not just have to grieve, but, when they should be thinking of taking their baby home, instead have to plan a funeral.
Angel Gowns aims to make that one step just a tiny bit easier by creating gowns for these angel babies.
Angel Gowns transforms donated wedding dresses into gown for babies who didn't make it.
While Angel Gowns don't need any more wedding dresses to make their precious garments right now, but you can donate via their web page.
Vist Angel Gowns here.
Bears of Hope:
Bears of Hope Pregnancy & Infant Loss Support is another support service for families who experience the loss of their baby.
As well as providing information and support for families and helping to guide them through what will be the most difficult time of their lives they offer the ability to donate a support package for these families.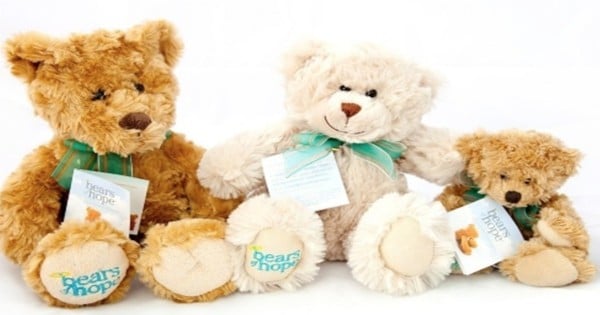 You can give a family a Bear of Hope. Image via Bears of Hope.
The organisation offers different packages for families experiencing different losses, and also allows you to donate to provide bears for hospitals so that a bereaved family can receive a Bear of Hope.
Visit Bears of Hope here.
Help your friend find support organisations:
*PANDA (Post and Antenatal Depression Association Inc.)
A non for profit organisation to assist women and families suffering post-natal depression, anxiety and suffering for the loss of a child.