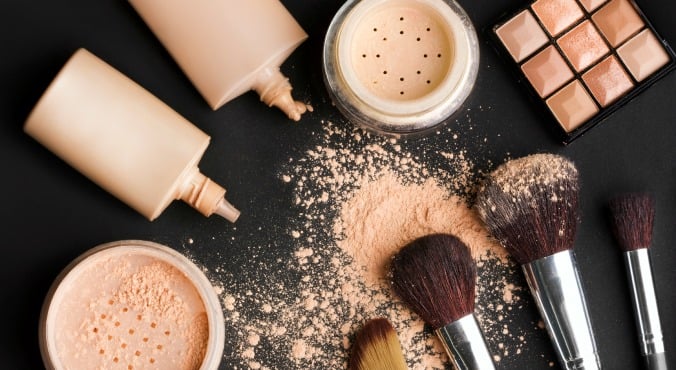 Image: iStock. 
Is it absolutely necessary to use a brush to apply it? (Because I'm way too lazy to most the time.) And is exxy foundation really going to deliver better results than the el cheapo brands? They're the foundation questions we've always wanted to know. We rounded up some of the industry's most renowned makeup artists to set the record straight. 
1. You don't necessarily need to purchase foundation that requires you to take out a loan.
"It comes down to what works for you and your skin type. If you're lucky to find a cheaper product that works perfectly for you then stick with it! However, as foundation is the base of your overall makeup routine, I would recommend  that it be one product you invest time and money in finding the right one – once you nail your base, everything else will fall into place." – Hannah Terrett – Benefit Australia's National Brow and Trends Artist.
2. No, a fancy brush or sponge isn't always required for best results.
"Fingers are A-OK! It really is a personal preference and comes down to the product you are using. If I'm using a cream compact I will always use a sponge, as it will deliver the best result for application. In winter I'll use fingers for a liquid foundation as I like the way the heat from the fingertips gets the product to blend nicely onto the skin. In summer I will use a foundation brush to work in liquid foundation as it's already warm and the fingertips create a little too much warmth." – Melanie Burnicle – Revlon Makeup Director Australasia
(Glow Guide Producer, Brittany puts foundation drops to the test. Post continues after video.)
 3. Foundation doesn't need to be applied all over your face.
"No, it doesn't. If the skin is prepped in the right way, you may want to apply a very sheer foundation or just concealer where needed." – Carol Mackie, senior artist MAC Cosmetics
4. Trying a foundation shade on the back of your hand? Yeah, stop doing that.
"Although we recommend trying foundation on the face, many still try it on their hand. By trying on the face, we can see the tone, depth of shade and the formula match for skin type." – Melissa Elvin-Jensen, Clinique's National Education Manager
5. Combine your primer and foundation in one step.
"Save some time in the morning and mix your primer with your foundation – works a treat!" – Hannah Terrett – Benefit Australia's National Brow and Trends Artist.
The Glow team's favourite budget foundations. (Post continues after gallery.)
The Best Foundations Under $30
6. When applying, don't start at the edges of your face.
"Start your application from the centre of the face working outwards and buffing as you go – less is more! When you get to the hairline there shouldn't be any product there." – Carol Mackie, senior artist MAC Cosmetics
7. Don't just grab any old foundation – select one that's going to show your skin type in the best light.
"Take time to get to know your skin; are you on the dry or oily side? Do you have large pores? Do you have problem skin that's prone to breakouts? Knowing the answers to these questions will help you determine which foundation to use. If you have dry skin, use a nice creamy liquid; something that will hydrate as well as cover the liquid will blend nicely over the skin.