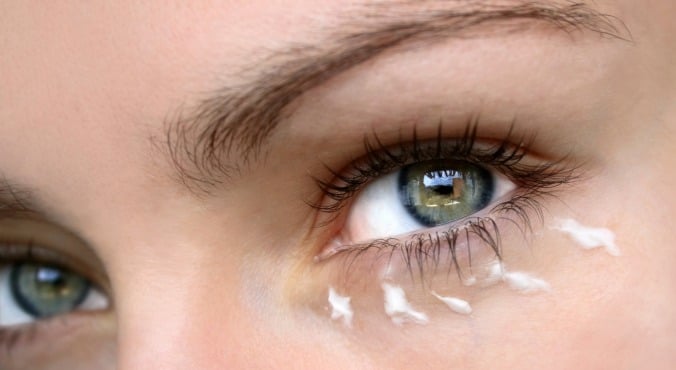 Image via iStock.
Dark circles. Eye bags. Puffy eyes – all betraying signs of a big night out (or, ahem, children who like to rise early and keep you awake late at night) and certainly not what you want to see when you look in the mirror.
For me, puffy eyes are the worst. While you can sometimes get away with covering dark circles with some strategically-placed concealer, there is no hiding your eyes when they've blown up like a blowfish.
I've been blessed with the unfortunate trait of looking like I've had a severe allergic reaction every time I cry, so you can imagine how excited I was to discover there are actual ways to get rid of puffy eyes (that don't include suspiciously wearing sunglasses indoors).
It's also important to remember you're not alone. ALL women have these problems, we just hide them. (Post continues after gallery.)
1. Apply cucumber over the eyes
You've seen it done on TV shows, movies and in fancy spas - yes, cucumber on the eyes really does work! Because eye puffiness is a build up of fluid under the eyes, a cold compress will work to temporarily reduce the swelling. If you don't have cucumber on hand, freezing tea bags for twenty minutes, then placing them over your eyes, will also work well.
Interestingly, potatoes are also great at reducing puffiness and dark circles, thanks to their natural astringent properties. Simply peel a raw potato, slice and place over your eyes for 10 minutes.
RELATED: Stick potatoes on your acne scars… and what's with that tampon?