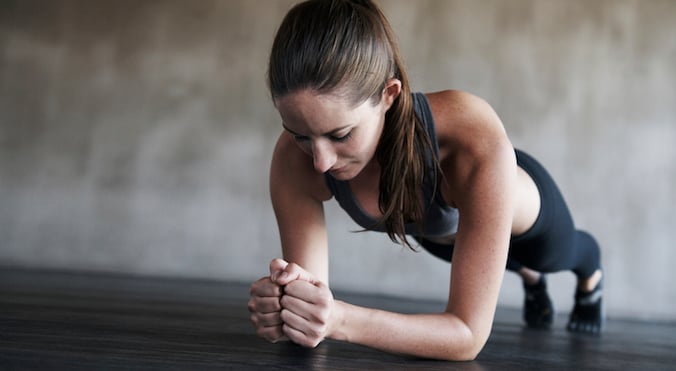 Image via iStock.
Kick-starting fitness routines is my specialty, and sticking with them is my downfall – but not anymore.
I'm secretly fascinated by Very Fit People.
You know the ones. They can be seen running around the park in the early mornings; bright eyes, shiny ponytails, neon sportswear and cheesy Very Fit Person grins on their faces. I watch them with the intent fascination of an ornithologist observing a rare species of tropical parrot.
How do they do it? What is this physical wizardry? How do they motivate themselves to do this every single day? Don't they have family commitments? Busy jobs to attend to? Houses to keep tidy? Salted caramel cronuts to consume?
Related: Can I exercise while I'm still getting over a cold?
I recognise myself in them – we're all human beings, after all – but something is different. They have what I lack and desperately need to acquire: motivation. More specifically, motivation that lasts more than a couple of fleeting months.
My own fitness efforts tend to resemble the heart monitors Very Fit People wear, rather than the fit people themselves. I get excited, I get started, I see results, I get even more excited, I up the ante, I exercise even more… aaaaaaand then I get distracted.
Kick-starting fitness routines is my speciality, sticking with them is my downfall. But no more. Because recently, I decided to pick the brains of the most motivated and regular exercisers I know. And this is what I learned:
1. Choose exercise that requires your brain, as well as your brawn.
When you're bored, you can't help but focus on the fact you're exercising (have you ever gone running while thinking inside your head, "I hate this, it hurts, I hate this, it hurts"?). That makes it so much harder.
Find exercise that stimulates your brain through learning, to distract yourself from the physical challenge you're undertaking. Think Zumba, which stimulates your brain to remember and execute new moves. It doesn't need to be difficult, but just engage your brain, as well as your body.