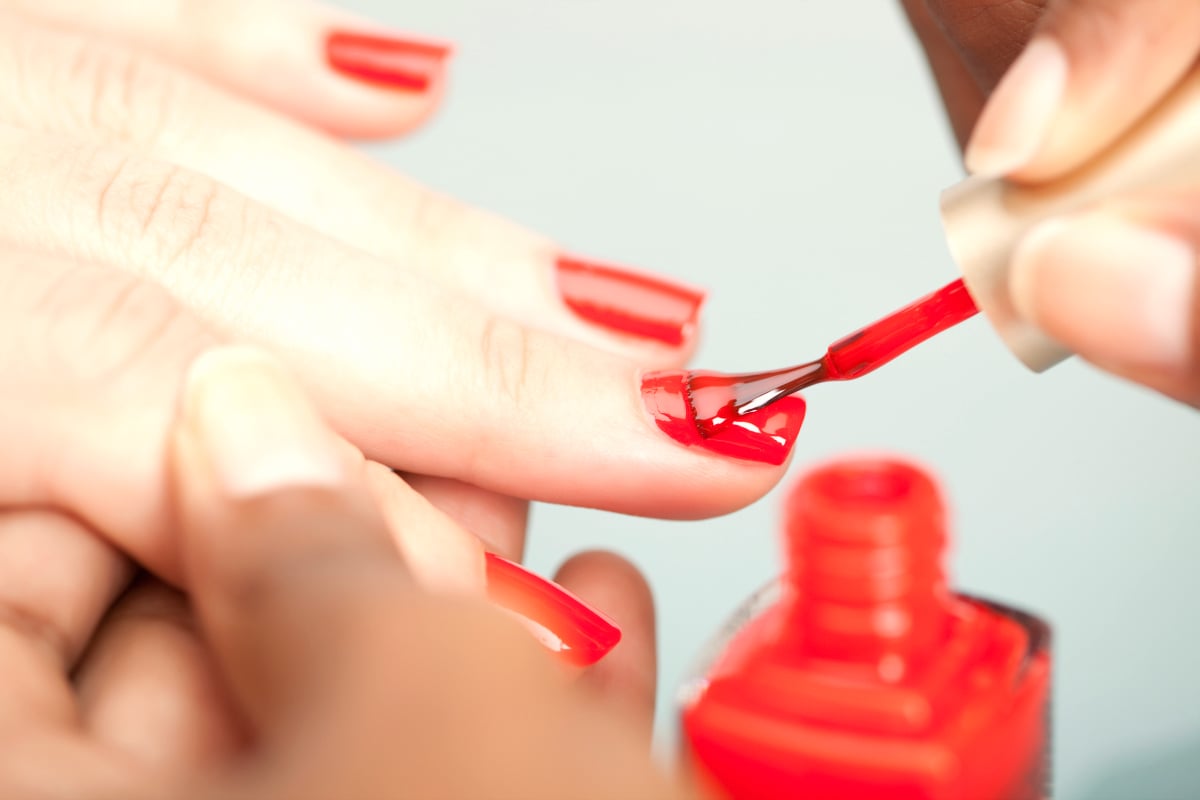 This wonderful nugget of beauty wisdom comes courtesy of Mamamia's beauty show, You Beauty. To ensure you never miss an episode, listen to You Beauty here for free. It's a blast.
Manicures got confusing all of a sudden, didn't they?
One can't simply stroll into a nail parlour and ask for a coat of red polish these days. No, you've got to choose between gel, acrylic, shellac, OPI colour, SNS nails… it's confronting.
One decision you can lock down is where to get your nails done. Sure, there's no shortage of nail salons in most cities, but finding a reputable one that will give you a lovely manicure without damaging your nails too much is really important.
"Your nails are the same as your hair, they're dead, so [how healthy they stay] really depends on how much you take care of them," Leigh said on the latest episode of Mamamia's You Beauty podcast. (Get it in your ears below, post continues after audio.)
"Quality and how much your nails will be damaged really depends on the manicure you choose and where you go."
Although she started off by prefacing that every type of manicure will damage your nails in some way, Leigh reckons there are four specific warning signs to look out for in your nail technician or manicurist.
If they're doing one (or heaven forbid, ALL) of these below, you might want to think about finding somewhere new. ASAP.
If it's too cheap.
As with a lot of things in life, you get for what you pay for.
If you're not sure whether a place is great, check out the price list. Gel or SNS manicures can start as low as $30, but be warned, you might not be entirely happy with the finished product.
"You can get it done cheaply for $30… going to a cheap place is affordable, but they often do it quite thick," Leigh said.
She noted she pays up to $70 for a shellac manicure, which is on the exxier side, between $50-65 is pretty comparable.
If they're still using UV lamps.
"Recently, there was some concern about the lamps salons use to cure the colour of gel manicures as they were UV, but now they're not," Leigh said.
If your salon is still using UV lights instead of safe LED lights, request a LED lamp. Or go elsewhere.
If they scrape your nails to remove shellac or SNS.
Both gel and SNS nails are hard to remove at home. If you've ever picked off an SNS manicure, you'll no doubt have been horrified to see the bits of broken, dry, flaky nail left underneath.
Leigh advised a good technician will soak your nails to gently lift the product off, before gently buffing the rest off by hand.
She added, "If they scrape your nail like a mad person to get it off, it's extremely damaging."
If they use electrical tools.
You know that mini power tool manicurists might use to chisel away at your nails?
Leigh reckons that's the ultimate nail sin and you should hightail it out of any salon that uses them.
"If they're using that filing machine that's plugged into electricity, walk the heck away. That is so bad."