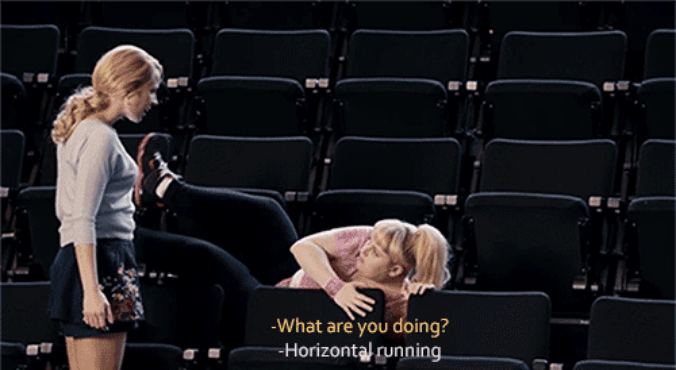 Image: Pitch Perfect. Rebel Wilson shows us how it's done.
I hate everything about exercise. I always have, and I suspect that I always will. In high school, my PE excuses were legendary. "I can't do PE today," I told Ms. Palmer, "Because it's school photo day, and I don't want my hair to get messed up."
Naturally, she forced me back on the field quicker than you can say "ten push-ups". These days, there's no teacher to threaten me with detention, and I find that I'm getting lazier. I need heavy-duty motivation to get myself off the couch. But over time, I've developed four tricks that will help even the most workout-resistant of you to get active.
Related: 4 ways to put a rocket up your motivation to exercise
1. Think about your death
Something happened to me a few years ago, when I turned 30. I realised that I wouldn't be young and smug forever. There's a time in your life when you can be thin and lazy, and it's cute. You laugh about it, through a mouthful of chocolate cake. But one day, you will realise that if you keep up those bad habits, your body and health will suffer.
Professor Steven N. Blair, from the University of South Carolina, wrote in the British Journal of Sports Medicine that there is evidence "that physical inactivity is one of the most important public health problems of the 21st century". He states that, "regular physical activity has important and wide-ranging health benefits. These range from reduced risk of chronic diseases such as heart disease, type 2 diabetes, and some cancers to enhanced function and preservation of function with age". Dying: it's scary enough to make me exercise!