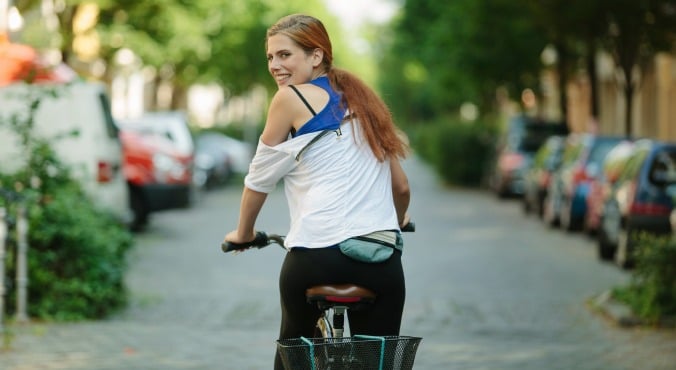 Image: iStock
Exercise is a lot of things: sweaty, gruelling, ultimately rewarding… but fun?
Well, that depends who you ask. Some people live for the burn, while others have to internally bribe themselves to get through a workout ("There's a brownie at the finish line, I promise…"). It gets even harder to derive joy from fitness when winter rocks up. What's more fun — staying in bed where it's warm, or running in the freezing 7am chill? Exactly.
RELATED: This is why some people find exercise so much harder than others.
According to new research from the Netherlands there could be a way to make running/yoga/pole vaulting/insert chosen exercise here a more satisfying experience. As the New York Times reports, the University of Utrecht researchers wanted to figure out why exercise is so enjoyable to some and torturous to others.
Their answer is a health buzzword you've probably heard a lot of lately: mindfulness. This technique, which involves "awareness of what is happening in the present moment" according to the study authors, has been applied to everything from meditation to eating.
The researchers quizzed a group of 400 physically active volunteers to determine how mindful and absorbed they were during their workouts, and how much satisfaction they drew from the experience, to see if there was a link between the two. Their findings were telling.
"The message is that mindfulness may amplify satisfaction, because one is satisfied when positive experiences with physical activity become prominent. For those experiences to be noticed, one must become aware of them," the study's leader Kalliopi-Eleni Tsafou told the New York Times.
RELATED: There are 10 types of exercisers out there. Which one are you?
"We would argue that this can be achieved by being mindful."
So what exactly does a mindful approach to exercise involve? Well, a lot of it comes down to keeping your eyes, ears and other senses open and appreciating the various elements of your activity. It's paying attention to the burn in your calves, the sound of your feet pounding the pavement and the air in your face.
That's all well and good, but if you want slightly less conceptual ways to take the torture out of working out, here are some practical tips from Aussie personal trainers and athletes:
1. Make it social
"Working out with a buddy is a perfect way to mix up your exercise routine - it keeps things interesting while making sure you both stay motivated and accountable," says Steph Prem, winter Olympian and founder of Premium Performance in Melbourne. 
"We are social creatures. Don't beat yourself up for failing to commit to your training if you attempted to go it alone," agrees Luke D'Astoli, Functional Movement Personal Trainer at Acumotum and lululemon athletica Chapel Street ambassador. "There's nothing better than having a training partner who is as committed to their health as you are. Someone to celebrate your achievements with, someone to support you when you're hurting. Find a good influence for you and be a good influence for someone else. You can't play games on your own."