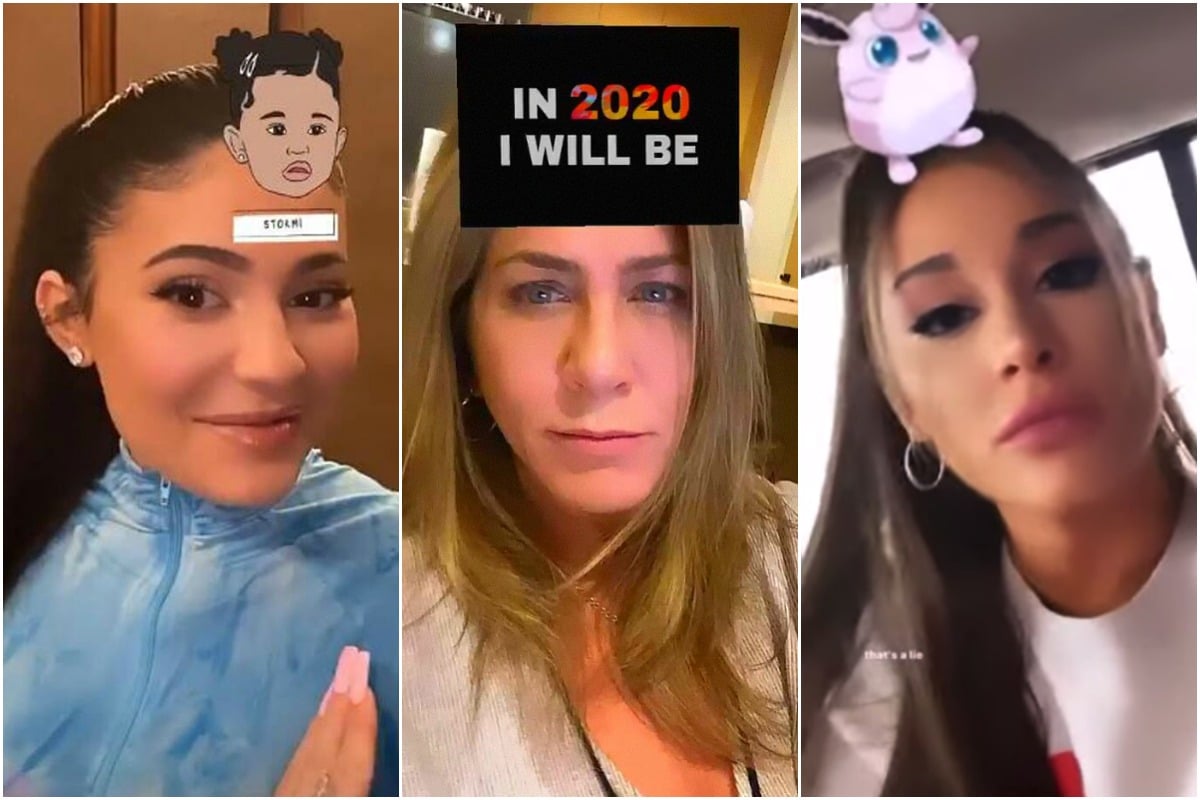 Whoa.
I've just realised something.
I have spent approximately 2345 hours in 2020 watching friends/celebrities/basically anyone that attempts it, play with those prediction filter things on Instagram Stories.
But when I say watching, I mean intently. 
This is what I am talking about. Post continues after video.
I will sit and patiently wait through the few seconds of flicking to see which Kardashian the real-life Kylie Jenner actually is thanks to the Kardashian Instagram filter.
I've watched every single influencer on my feed react to being labelled Homer/Marge/Maggie Simpson AND I'VE LAUGHED ALONG WITH THEIR REACTIONS.
I've even sat through my cousin's 20 versions with her goddamn dog.
But let me repeat.
I am…waiting for the answers. Really intently consuming the content.
I only realised this late last night, while watching people predicting "what Disney character are you" while lying in bed.
"WHAT ARE YOU DOING GEMMA?!" I thought as I, again, patiently waited for my old high school peer to react to being told she was Simba.
Curious to see how much time I've spent down this rabbit hole, I asked around the office for the different versions my Mamamia colleagues had seen doing the rounds.
Here's what we came up with:
What Pokemon are you
What Harry Potter character are you
What Aussie snack are you
In 2020 I will be
What your 2020 will be like
What Kardashian are you
What Disney character are you
What cat are you
WHAT RANDOM OBJECT ARE YOU (sorry, but that one really needed to be highlighted. Wot?!)
What Friends character are you
What NRL player are you
What star sign will you marry
Never have I ever
What musical are you
Where should I vacation next
THE LIST GOES ON.
It is with this realisation that I must kindly ask myself (and the rest of the social media-obsessed world), what the hell is going on?
Why am I/we doing this to ourselves?
Do I have nothing else to do with my time as we enter a new decade/year?
I get why we might find it funny to try the filter out on ourselves, but why am I happily watching on while OTHER people try it?
I am almost positive I am not the only one whipping out my phone on public transport, while watching TV, in the work kitchen, on the toilet (sorry, but it's true, you do it too), and everywhere else I get a few seconds of peace.
I am also almost positive I am not the only one (predominately) spending that time sifting through Instagram Stories.