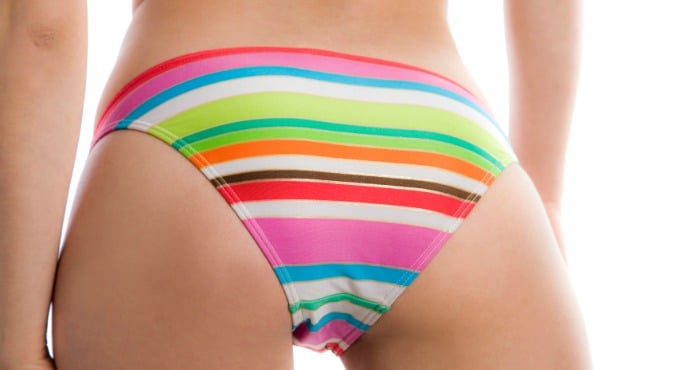 Image via iStock
Forget eating-chocolate pleasure and trailer-for-Magic-Mike-2 pleasure, nothing comes close to the between-the-legs pleasure of a great… brief.
It doesn't sag, nip, pinch, bulge or annoy you. You've never had to get a friend to stand behind your back while you wrestle it out of your butt crack.
RELATED: Burning health question: Is sleeping in a bra bad for me?
What a good brief loses in status over the years – from date nights, to sofa nights, then period nights – it gains in love and weird dangly bits of elastic.
The reason we act like crazed stalkers around our best briefs is that buying knickers is a nightmare. For bras, there's a sales assistant with a tape measure. For your bits, there's a game of multipack roulette. It could end well, or it could end in thrush.
To make your odds of a good ending a lot higher, we asked lingerie experts where we've been going wrong.
1. Actually try them on
We get it: you can't be bothered to get naked. (Sometimes it's an effort even before bed). But this could be a game-changer. "Some stores won't take briefs back if you simply change your mind, so you need to choose carefully," explains Militsa Micalessi, General Manager of Intimate Apparel at Myer (myer.com.au). "Always try them on over the top of your underwear, and if they're in a multipack, ask if the same style is available as a single brief to try."
2. Go up a size
This is the official cure for the pinching problem. "Go a size up from your usual clothes size and they'll sit on the skin rather than digging in," recommends lingerie expert Renée Mayne (braqueen.com.au).
RELATED: Celebrities are going braless. But does it make your boobs sag?
3. Don't over-suck the Spanx
Good news for your ability to breathe: it's not a case of the tighter, the better. "Shapewear should be bought in the same size as your regular underwear –trying to squeeze into a smaller size won't produce a better result," reassures Micalessi.
4. Laser-cut is the best no-VPL brief
"These have a clean-cut leg opening that's invisible under clothing," says Micalessi. But if you're wearing trousers, a boy-leg or short is better, "because it moves the leg opening to a lower, less visible position – these are particularly popular in shapewear." And for a superhero level of invisibility, always wear skin-colour briefs under light-coloured clothes.