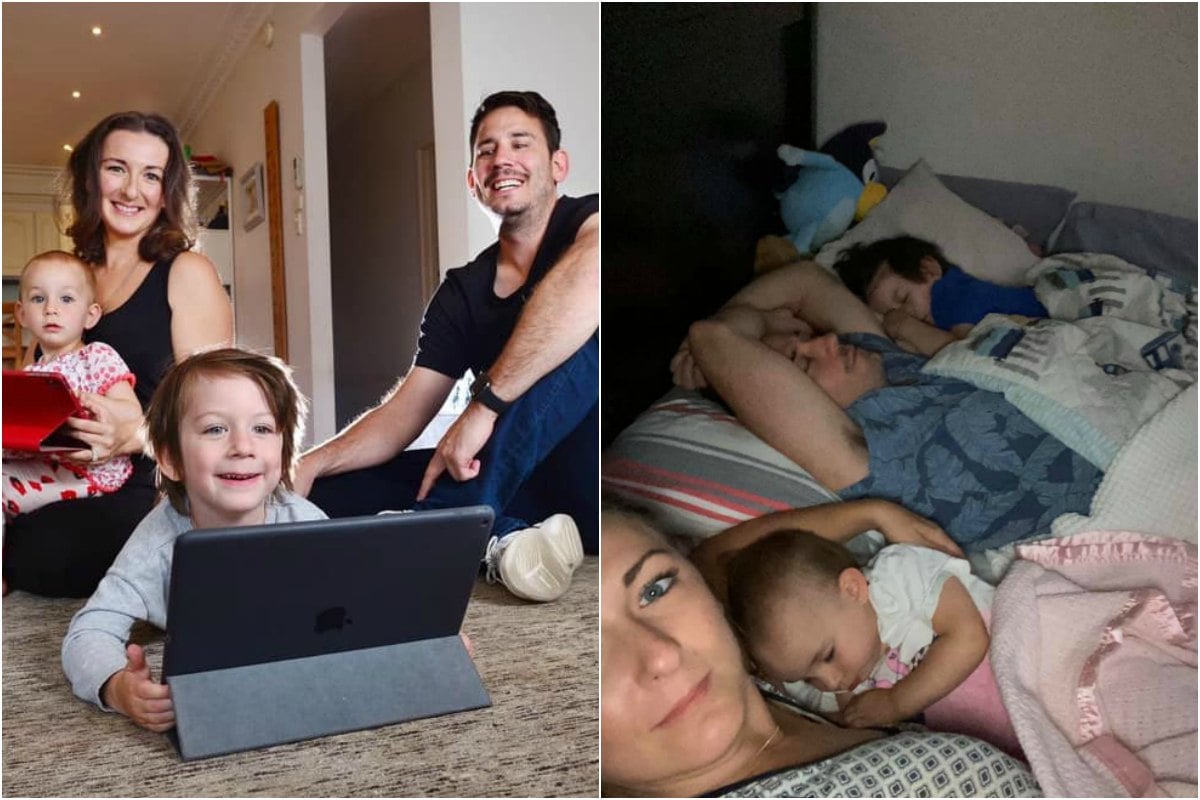 Sleep and parenting is not a match made in heaven.
Parents, especially those with young children, will know this to be true.
From the night-feeding to sleep training and the many trials and tribulations around co-sleeping, chances are when it comes to raising kids and your nightly snooze, you could (and probably should) be getting more of it. Not that any of this matters to a hungry six-month-old baby or a two-year-old toddler who would rather sleep with their parents.
But if you need some reassurance that you're not the only one who's slowly losing their mind to sleep deprivation, we've got your back. We asked 20 parents to share exactly how much sleep they're getting and how they're getting it – and yes, it does get better.
Here's what they said.
Watch: How to get your baby to sleep in four simple steps. Post continues below.
Sarah
How many kids do you have and how old are they? One daughter who's eight weeks old.
How many hours of sleep a night do you have on average? Five hours (broken).
How is the quality of your sleep? At the moment, every night is different but generally, Evie, will give us a longer stretch of sleep from about 11pm (four hours is a win!) and then smaller stretches of around two hours from there, broken up by feeds. She's in a co-sleeper bassinet that attaches to the bed but we've detached it as she's a loud sleeper and I find some distance helpful so I'm not waking every time she stirs. She tends to get a bit of digestive pain in the early morning and starts thrashing about so I tend to move her into bed to co-sleep as she's more settled next to me. I've also just got used to the morning snuggles!
Does this affect your day-to-day life? How so? Absolutely. My short-term memory is completely gone. I spend hours trying to remember what we did the previous day (even the previous hour). I'm much more irritable than usual and far less able to cope with stressful situations. I did a lot of prep for the postpartum period and knew I'd have to manage my anxiety but as everyone tells you, you can't prepare for the effects of sleep deprivation. It's amazing what the body adjusts to though. I used to feel absolutely wrecked if I got less than seven hours sleep a night, now a stretch of four unbroken hours has me jumping out of bed ready to run a marathon.