Almost two days on from Kim Kardashian West being robbed of $14 million of jewels in Paris, more harrowing and conflicting details of the reality star's ordeal have emerged.
Overnight, various media outlets have begun reporting that following five masked robbers breaking into the star's luxury apartment, binding her wrists and locking her in a bathroom, the 35-year-old was able to alert friend and stylist Simone Harouche who was sleeping downstairs.
It is also being reported that Kardashian was able to 'wriggle her hands' of the plastic binding her wrists before running from the bathroom to the balcony and screaming for help.
Kim Kardashian West in Paris hours before the robbery. Source: Instagram.
Us Weekly, however, are reporting that Harouche was initially woken by the noise of the robbers in the apartment and called Duvier at that point, before later hearing Kim's cries.
Reports have also emerged that two of the five criminals were following Kardashian West closely for days prior to the heist.
"Kim Kardashian was tailed for at least three days before the robbery," a source purported to be close to French police told The Daily Mail.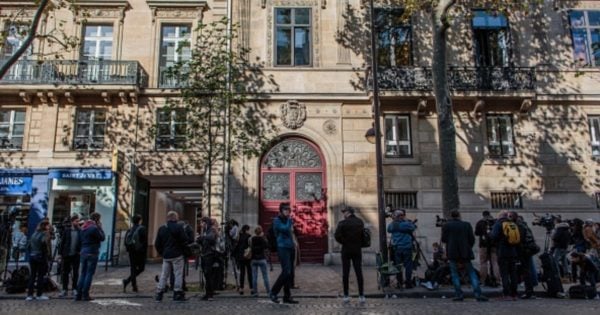 Outside Kim Kardashian West's Paris apartment. Source: Getty. 
"We know there was one man who pretended to be a photographer who followed the American celebrity on a motorbike to find out her whereabouts. Another man pretended to be a plain-clothed detective to try to get a seat next to her at the exclusive Ferdi restaurant on Thursday night."
But according to TMZ, the police's search for surveillance footage showing the moments prior to and following the robbery has been fruitless after it was revealed there are no CCTV cameras inside or outside the apartment complex on Rue Tronchet.