Last week I put my Christmas tree up. In fact, I decked out the whole freaking house.
From Christmas pillowcases on the bed (my husband loves these), a 'Santa Stop Here' sign in the front garden, Christmas pyjamas being put into rotation, to the tea towels hanging in the kitchen, I am well and truly ready for the festive season. I also have enforced my strict Christmas carols-only zone in my car, because Michael Bublé.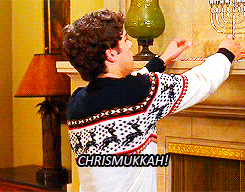 A supercharged Christmas! Where do I sign up? Image via Giphy.
I couldn't be happier.
Yet I have learnt over the years that my Christmas obsession divides people.
There are those who totally get it and can engage in a conversation wholly constructed with lines from Christmas movies and then there are the people who are confused, sometimes even angry about my love affair with Christmas. Honestly they make the Grinch look tame.