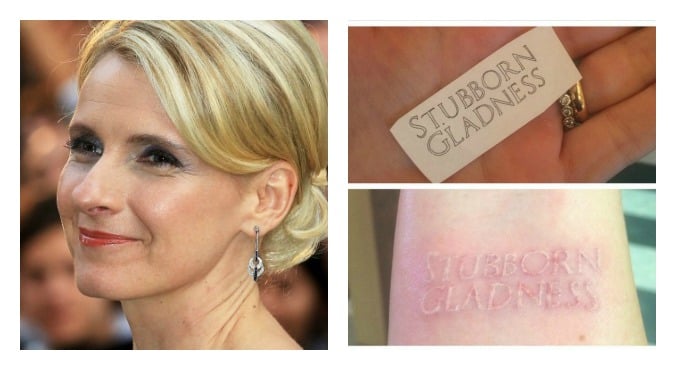 Image: Elizabeth Gilbert (Getty)
If you've ever thought about getting a tattoo, but felt it'd be too, well, loud and obvious, you might be interested in this trend.
Author Elizabeth Gilbert is the latest celebrity to embrace a white tattoo, having the words 'Stubborn Gladness' inked onto her wrist.
RELATED: You can tattoo your eyeballs now. But that doesn't mean you should.
"Tattoo day! I just got these lovely words tattooed in white ink… These words I live by. Now they will be part of me always," the Eat, Pray, Love author explained on Instagram this weekend.
The phrase is from a piece by a favourite author of Liz's, Jack Gilbert (of no relation apparently) called A Brief for the Defense.
Actress Lindsay Lohan and singer Rihanna both have white tattoos — Lindsay's is the word 'Breathe' — while insiders claim Kate Moss has a line of hearts tattooed down the side of her body in white ink.
RELATED: Cara Delevingne now has a white tattoo
Meanwhile, supermodel Cara Delevingne jumped on board the trend last year, having the words 'Breathe Deep' tattooed on her bicep. She also has a white tattoo of a dove on one of her fingers. Reportedly, both of Cara's tattoos were done with a specialised ink that makes them glow under UV light.
Is it just us, or do white ink tattoos sound a little bit like the grown up's version of invisible ink?
Like their darker counterparts, white tattoos are created using a tattoo gun, which injects ink under the skin. The final results can differ dramatically, though — white ink is thicker than that used for coloured designs, which means the tattoo generally appears more raised and produces a more visible scar on the skin (as you can see with Elizabeth Gilbert's).
RELATED: Suffering from tattoo regret? This is the news you've been waiting for.
However, there are several things to keep in mind before you drop in to your nearest tattoo parlour.