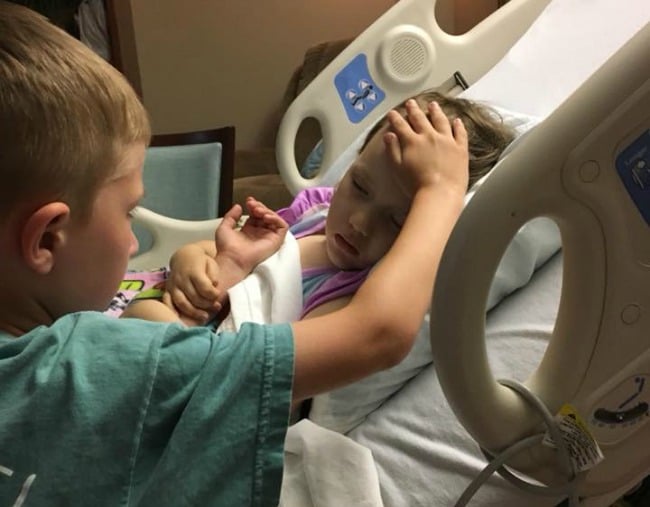 Six-year-old Jackson Sooter adores his little sister Addy. You can see that from this photo. But just hours after this photo was taken, four-year-old Addy passed away.
"A little boy should not have to say goodbye to his partner in crime, his playmate, his best friend, his little sister," Jackson and Addy's father Matt wrote when he posted this photo on Facebook on the night of June 2.
"This isn't how it's supposed to be. But this is the broken world we live in.
"Pray for Jackson. He doesn't want to leave her side and we won't make him."
Addy had a tumour in her brain stem. Experimental treatment had failed and she was in a hospice in her family's home state of Arkansas. As this photo was taken, Jackson and Addy were talking quietly. Matt could see that Addy was getting tired, and he told Jackson it was time to go to sleep in a nearby bed.
"I love you," Jackson told his sister, stroking her forehead as she held his hand. Then he went to sleep.
Just 20 minutes later, Addy's breathing started to become laboured. Matt and his wife Chandra sat by her bedside. She opened her eyes a few more times. But just after 1am on the morning of June 3, Addy slipped away.
Three hours later, Matt and Chandra woke up Jackson.
"We told Jackson that she had passed – that she was with Jesus and she wasn't hurting anymore," Matt told The Washington Post. "He said, 'Goodbye, Sissy.'"
Addy was diagnosed with the tumour, diffuse intrinsic pontine glioma, in 2016, after her parents had noticed she was walking oddly and losing co-ordination. She had treatment in the US, and then experimental treatment in Mexico, but the tumour continued to grow.
Matt and Chandra tried to make the last months of Addy's life as enjoyable as possible. Through the Make-A-Wish Foundation, she went to Disneyworld to meet Elsa from Frozen, and she also went on her first trip to the beach. She spent time doing the things she loved – playing hide-and-seek, and watching YouTube videos of kids opening plastic eggs to get to the toys inside.