Nothing motivates a parent more than their love for their child, which is why the parents of British babies Alfie Evans and Charlie Gard are publicly advocating for a parent's final right to decide the treatment of a terminally ill child.
Last week, 23-month-old Alfie Evans died after living in a coma for more than a year. Five days prior, his life support had been switched off, after The European Court of Human Rights rejected a final appeal by Alfie's parents to pursue further treatment in a foreign hospital.
Alfie's death comes only nine months after 11-month-old Charlie Gard lost the fight for his little life in a similar situation.
Now, both sets of parents are campaigning for a change of British law to grant parents more power to decide their child's medical treatment.
What are the campaigns asking for?
Alfie's parents, Tom Evans and Kate James, were devastated when the courts ruled in favour of doctors at Liverpool's Alder Hay hospital, who had advised it was in Alfie's best interests to withdraw his life-support. The courts also ruled against his parents' desire to take him abroad to attempt different treatment.
They commenced a campaign called Alfie's Army to raise awareness about the rights of parents and to introduce laws – calling them "Alfie's Law" – hindering them. The campaign was backed by Charlie's parents Connie Yates and Chris Gard, who had already begun a campaign for "Charlie's Law", after the infant died last July following a legal battle with Great Ormond Street hospital.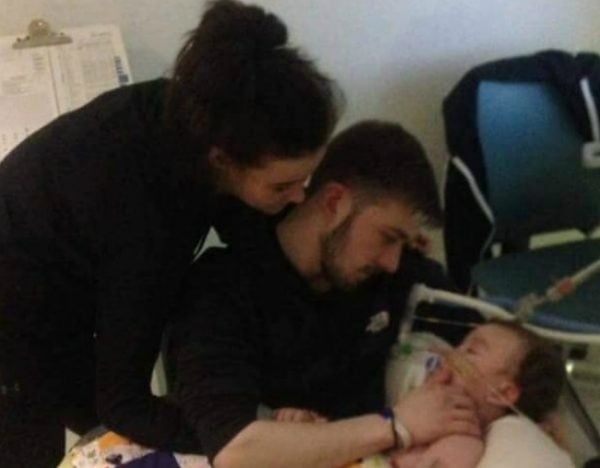 Both campaigns are advocating for legislation that would give parents more power over choosing care for their ill children. Currently, if a public body considers that a parent's choices risk harming a child, it can challenge them in court. Doctors and social workers can ask a judge for an order to override the legal state of parental responsibility.
If Alfie's Law became law, parents - working with lawyers and medical experts - would be able to contribute more to the direction of the treatment given to their child.
The proposed laws would address problems around the "best interests" test used by courts to decide what is best for the child rather than the parents. They would also increase transparency so that cases can be dealt with before they reach the courts.
How Alfie's and Charlie's parents are united in their grief and desire for change.
The grieving families are undoubtedly backing each other. Speaking on British television, Connie said:
"With heavy hearts we have watched as Alfie's case has unfolded. When we were fighting for our son to be given a chance to try a treatment that could have improved his quality of life, we realised that cases like these would keep happening until the law was changed."
Connie and Chris admitted their grief remains "raw".
Chris said, "We've lost our little boy. We promised him in the sad days leading up to his death we'd do everything to help other children have a chance at treatment and try to change the law."
Connie explained the intentions behind Charlie's Law, making it clear that they are attempting to improve communication between parents and medical staff. She said:
"We have independent mediators, independent second opinions, everything is out on the table to improve the communication, transperency. Hopefully to get the doctors and parents to come to an agreement before it comes to a judge.
In  direct message to Alfie's parents, Chris added:
"No one has more pain than those two at the moment. My overwhelming feeling is, and I can imagine Tom feels the same, is pride for my little boy. Charlie touched the hearts of people around the world and so did Alfie. I don't need to tell him but just be proud of your boy just like we are of Charlie."
Who is supporting the campaigns?
Apart from a massive social media response, and outcry from parents all over the world, the campaigns have attracted some prominent backing.
Steven Woolfe, Member of the European Parliament for North West England, has written and tweeted in significant support of Alfie Evans' parents and their work:
READ: The Alfie Evans case has proven that we need to change the law. My article in the @Independent https://t.co/lZCU9ys8AM

— Steven Woolfe MEP (@Steven_Woolfe) April 27, 2018
Woolfe said outside Parliament, when Alfie's Army marched on it in protest, that "a dangerous trend" has emerged of parents being deprived of the right to make healthcare decisions. He said:
"We demand a change in the law to restore the rights of parents in such decisions. All parents should be allowed an independent advocate to defend their case with the right legal and medical expertise and financial equality of arms.
We cannot have another baby, another family, have to go through the struggle and torment the Evans family have. It's time for Alfie's Law."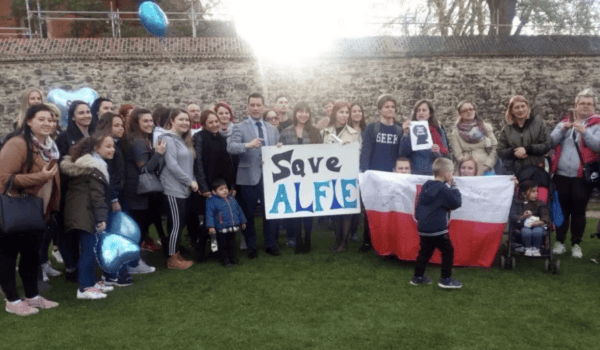 Sue Channon talks about what it is like to be a parent of a very sick child and what people can do to make life a little bit better.