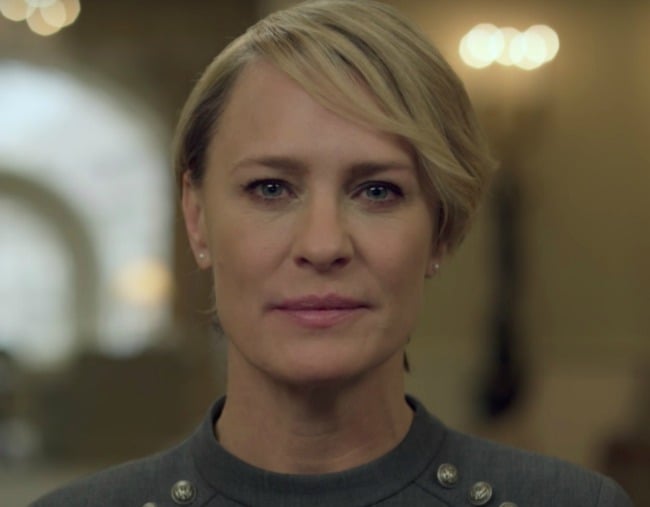 Put on your best pantsuit and get excited,because Netflix has released its first House of Cards trailer without Kevin Spacey.
It's Spacey-less, Kevin-deficient, and honestly…we don't need him.
Robin Wright as Claire Underwood is the narcissistic, stop-at-nothing-to-get-to-the-top, possibly homicidal, leader of our dreams.
And she is finally in her rightful place.
Your first look at House of Cards without Kevin Spacey. Post continues. 
In case you missed it, production of the sixth and final season of the Netflix original was paused when Spacey was accused of sexual harassment and assault last year.
Netflix later announced it would resume production without Spacey and with Wright playing the lead… which was a move that was long overdue, anyway.
ALL HAIL CLAIRE UNDERWOOD.
Frank Underwood (Spacey) was a TV character we had seen many times before. A white, middle-aged man in a powerful position who would stop at nothing to get more power.
Sure, in the first few seasons his direct dialogue to the camera and homicidal tendencies were shocking, but after awhile all became a little bit meh.
But Claire Underwood offered us something a little different. She was a woman who was every bit as ambitious and cunning and deceitful as her husband, and she was unapologetic about it.
She also managed to achieved just as much – if not more – than her husband and she was definitely never the meek, stand by your man, presidential wife we're used to seeing.
Then at the end of season five, Claire took control of the Oval Office in a move that would make every middle-aged white man in a suit weep.
We need to talk about Kevin Spacey. Post continues. 
From the brief teaser trailer it looks like she's primed to do some crazy table-flippin' shiz in this final season.
While it doesn't yet have a specific release date, the sixth season of House of Cards will be dropping on Netflix sometime this Spring.
So grab a power suit, start planning your bid for world domination during your morning run, and be prepared for some nail-biting White House drama.
Shout out to all Dads. Here at Mamamia we are always looking for ways to make Mamamia even better. Dads, we need you to help us do that by filling out this quick 15 min survey for us. Click the button below for your say.