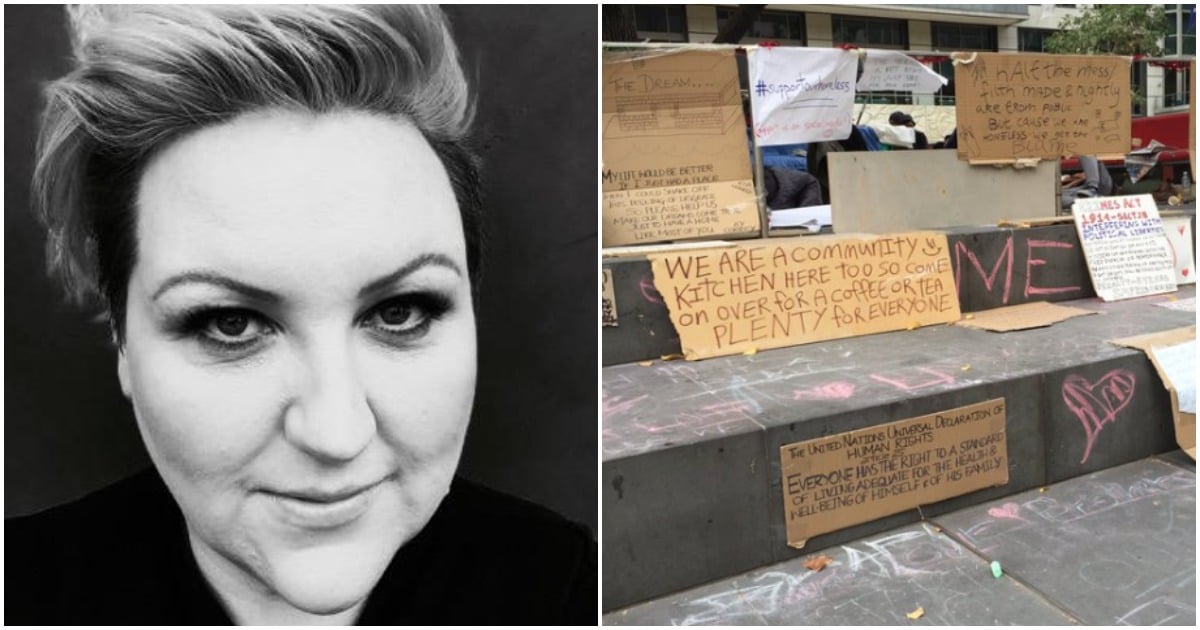 It is very, very easy to walk past people who sleep on the street. You probably do it every day.
Maybe it's because it's too hard to look directly at someone who has nothing.
Maybe it's because we don't have a spare dollar in our purse that week and don't want to stop and talk.
Maybe it's because we just don't care enough.
Meshel Laurie hit the streets in at the start of Melbourne's winter to talk to a group of homeless men and women who were protesting in the CBD after what they say has been negative media coverage portraying homeless people as violent.
Listen to Meshel interview one of the homeless people she spoke to, who chose to remain anonymous. (Post continues after audio.)
Here are some facts:  There are currently 105,237 people in Australia who are homeless, and of those desperate people, almost 120,000 were turned away from homeless shelters last year. In Melbourne's CBD alone there are roughly 247 homeless men and women finding shelter on the streets. So yes. Homelessness is a problem. A big one.
One common thread Meshel found is that the combination of poor emergency housing, together with the harsh winter, forces some people to purposely try to be imprisoned, to purposely try to go to jail, rather than face living on the street.
Meshel spoke to one man, who has been "in and out of jail during winter for the last two years."
"This time of year, right now, with this weather… it'd take me 20 minutes, [to pinch something] and I'd get at least three months, or if I wanted six months, I'd go and get six months
"The last time, I got 18 months, and that was for a three-pack of boxer shorts, and a couple of pairs of socks… And the judges know, it's common practice.  And because of the extent of my history, I don't have the option of my sentence [being] to serve out to the community, I always get custodial sentences, but that's what I was aiming for. It's taken me nearly three years now just to break that habit." he explains.
Just as I've rocked up to visit the homeless group at City Square the police have also turned up to ask questions… pic.twitter.com/xiih3QxUPX

— HomelessInMelbourne (@HomelessInMelb) May 29, 2016