1. Beautiful news: Home and Away star Tessa James has given birth to her first child after beating cancer.

In very happy Friday news, Tessa James, 26, has given birth to her first child after her battle with Hodgkin's lymphoma. James was diagnosed with the life-threatening illness when she was 23.
Although she is yet to announce the gender or name of her baby, The Home and Away actress posted an Instagram picture of her husband and former Melbourne Storm player, Nate Myles, pushing a pram.
Speaking to Elle Australia in their December 2017 issue, the actress said that her cancer was her and Nate's "first real challenge as a couple."
"It was hard and not nice, and not glamorous and very confronting," she said.
"When you haven't had children and you see mums and kids everywhere you just think that's normal," she told Elle.
"But when it happens to you, you're like, 'Oh my gosh, all these women have done this? Wow.'"
2. The Charmed reboot hasn't even premiered yet and one of its former stars is already fuming.

In case you missed it, Charmed (along with literally every other 90s TV show) is being rebooted… but so far it's not winning over its former star Holly Marie Combs.
Combs, who played Piper in the original series, made clear her dismay at the marketing of the updated version – along with the concept itself – in a series of tweets this week.
Along with the "pandering" character descriptions, Combs criticised how one of the sisters being a lesbian had been marketed as a "twist".
Guess we know one person who won't be watching the new series when it airs later this year.
3. Tiffiny Hall has sustained an injury only parents will understand.

New mum Tiffiny Hall has just been introduced to one of the many low points in this rollercoaster called parenting – tripping over your kid's toys.
Unfortunately for the business owner and former Biggest Loser trainer, she actually managed to sustain more than a stubbed-toe level injury over it, ending up with a broken ankle.
Next to a photo of herself with a moon boot and cruches, Tiff wrote,"A busted ankle won't stop this ninja!"
"Yep, I really did a doozy when I tripped over Arnold's toy… YIKES! It's all fun and games until someone falls over."
Tiff said with help from her physio, she wouldn't let the injury keep her from exercising.
Listen: This is everything that went through Tiffiny Hall's mind when she decided to share 'that' post-birth Instagram photo. (Post continues after audio…)

4. Kylie's half-brother Brody Jenner was in the dark about her pregnancy along with the rest of us.
While everyone was 99.99 per cent sure Kylie Jenner was pregnant the whole time, she only confirmed she was expecting to close family members and friends.
Those close family members didn't include her half-brother and former The Hills star Brody Jenner, apparently.
Actually, Jenner told TMZ he only found out Kylie had her baby with the rest of us.
"Well, to be honest, I didn't even know she was pregnant for the entire pregnancy," he said. "Now I found out and would love to see her."
Brody's exclusion from the list of people who knew seems reasonable considering they hadn't seen each other in "a couple of years".
"Relationship's always been there, but you know they're busy," he said.
"It is what it is. I would love to meet the baby."
Indeed.
5. Prince William and Prince Harry have two 'secret' siblings the world totally forgot about.
If the above headline had you bewildered and confused, that's okay, you're not alone.
Today we learnt that one of the world's most well-known sibling duos, is in fact not a duo, but have a quad… which doesn't nearly have the same ring to it.
Despite this, the two 'mystery' siblings aren't actually related to Will and Harry by blood. Instead, Tom Parker Bowles, and sister, Laura Lopes, 40, are from Camilla's first marriage to Andrew Parker Bowles, making them step-siblings.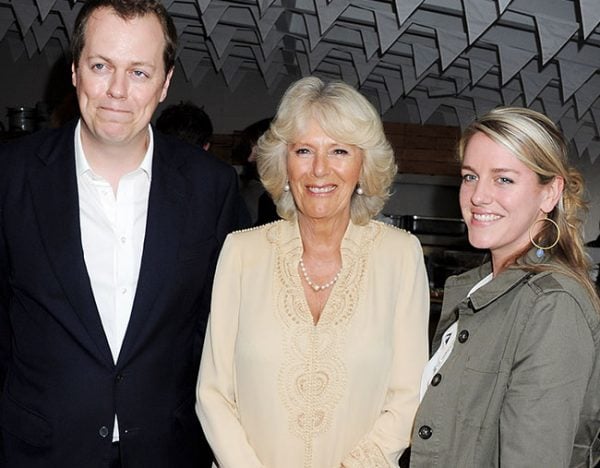 And while they're not 'royal' per say,  they're pretty accomplished in their own right.
For a complete explanation of the 'other' side of the royal family tree, you can read our deep dive right over here. It might leave you scratching your head.
Listen: On the latest episode of Mamamia Out Loud we discuss everything from Barnaby Joyce to why everyone is obsessed with skincare... it's a good one.