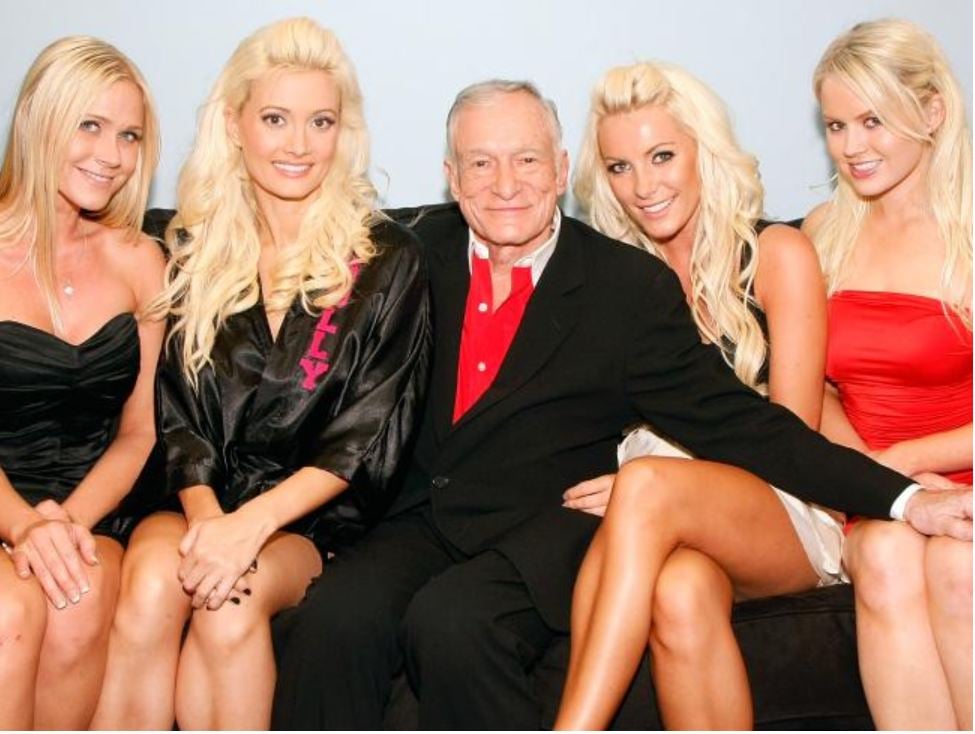 Did he really think that when they left the emotional abuse of the Playboy Mansion they would reflect on it fondly?
Hugh Hefner shouldn't be surprised when former girlfriends from his ever-changing harem speak out publicly about their lives in the Playboy Mansion.
Hefner, 89, chooses one type of woman to join his tribe of girlfriends: the very young and impressionable kind who can be moulded into exact blonde, pneumatic replicas of one another.
Today, Holly Madison has given more insight into her life in the Playboy Mansion – and it's one of emotional abuse and manipulation.
The weirdly regimented, isolated and loveless life inside the Playboy Mansion caused Hefner's former number one girlfriend Madison, now 35, to develop a stutter and contemplate suicide.
She even asked Hefner for permission to go and see a psychiatrist – a request he refused, telling her to go and talk to his secretary instead.
Madison was eventually prescribed anti-depressants by a GP.
The newly published book and interviews Madison has given about it have revealed even more squirmy details about Hef's bedside manner and how she descended into despair and hopelessness.
It seems almost as though Hefner truly believes that living in a mansion (albeit one falling into disrepair), having access to plastic surgery and being given a $1000-a-week clothing allowance is every girl's dream come true.
However, Hef's view of women as one-dimensional sex-bots who need only wardrobes full of pink latex dresses and regular manicures resulted in Madison becoming deeply depressed, because she is a person, and a person cannot live on a clothing allowance alone.
To me, reading Madison's account of Hef's emotional manipulation, his isolation of her, the way he made her financially dependent on him, the way he controlled what she looked like and robbed her of any individuality, sounds like a classic abusive relationship.
Madison writes how she once cut her long peroxide blonde hair into a bob without asking Hefner first, and he abused her, telling her she looked "old, hard and cheap".
What I can't understand is how Hefner has been allowed to get away with it for so long.
His schtick as the old guy with loads of hot girlfriends is passed off as benign – just Hef doing his thing.
Here's Madison talking about the book… Post continues after video.