Four Corners journalist Sarah Ferguson interviewed Hillary Clinton in the US during her only Australian interview on camera. Sarah writes about what it was like speaking face to face with the woman at the centre of the most stunning election loss in modern US history, republished here from the ABC website with full permission. You can watch the full interview on ABC TV on Monday at 8:30pm.
The Hillary Clinton I met in New York for our recent interview with Four Corners was an angrier, less guarded version of the person we have come to know over her decades in public life.
I have been following Hillary Clinton's career since the mid-1990s as a journalist in Washington reporting on the first term of Bill Clinton's presidency.
The Hillary Clinton I knew then would not have said publicly she had been "shivved" by the former head of the Federal Bureau of Investigation, James Comey.
She referred to Comey's handling of the investigation into her use of a private email server as secretary of state, in particular the letter written by Comey days before the election re opening the investigation: "He did shiv me, yeah … we also know that opponents of mine, like former mayor Rudy Giuliani, knew something was coming.
"So there was clearly an effort to derail my campaign at the end."
In response to Comey's remark before Congress that thinking he may have influenced the election made him "mildly nauseous", she said: "It makes me sick."
'An emotional gut punch'
The unexpected loss to Donald Trump seems to have reconfigured her interaction with the world as she grapples with her role in the loss and the role of others.
She describes the Russian hacking of her campaign's emails during the tight race as "more significant than Watergate".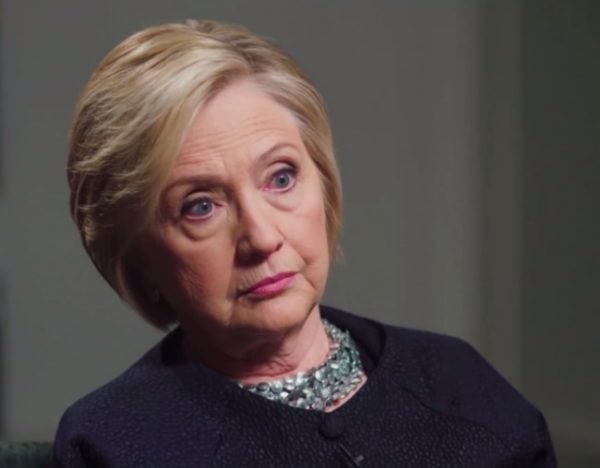 But it is in the personal arena where she sounds the most raw, recounting the difficulty of turning up for Trump's inauguration: "It was very much an emotional gut punch to be there."
In the vision of Hillary Clinton waiting to walk onto the balcony of the Capitol to watch Trump swear the oath of office, the pain is visible.
Her jaw is clenched and she blinks trying to summon the composure that has characterised her public appearances for decades — in the White House as first lady, during her failed bid to reform the US healthcare system, through the many public travails associated with her husband's serial disgraces and as senator and then secretary of state.
I asked her why she had not responded more viscerally to Trump in the second presidential debate, where he clearly moved into her personal space.
She said she wanted to call him out but decided to say nothing.
"We practised him stalking me, which we thought he would do, and indeed he did," she said.
We discuss the ridiculously fake Russian social media accounts throwing shade at Hillary during the election. (Post continues after audio.)
"You know, it's not easy for women to be passionate, even angry, in public; you know that.
"We train ourselves to be as, you know, as calm and together as we can and when any woman expresses her feelings and her emotions as you know your former prime minister Julia Gillard memorably did, you know, it produces mixed reactions by people."