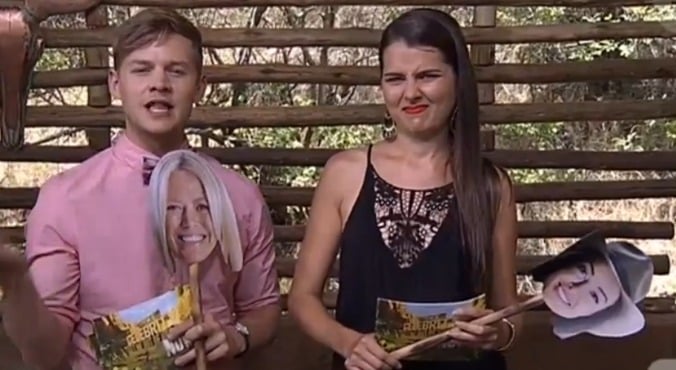 Image: Ten Play.
She may not have won the heart of Sam Wood, but Heather Maltman seems to be doing a great job back on our screens hosting I'm A Celebrity… Get Me Out of Here NOW!
While she might have been a firm favourite on The Bachelor, the response to her latest show haven't been quite so favourable, with many viewers slamming her presenting as "awkward".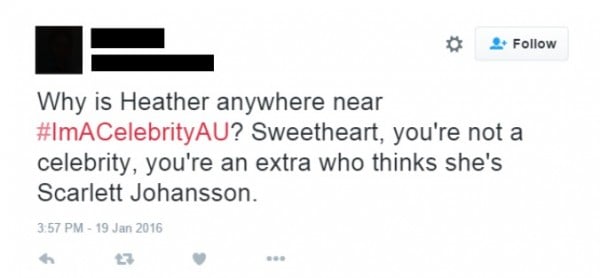 After nine episodes, Maltman has finally responded to the criticism - in the classiest way possible, of course.
"Life can be tricky. We all make mistakes and can do the wrong thing. As long as you can look after the guy beside you and say 'do your thing man. Just don't judge me if I do mine!' Then you might do ok at life," she wrote on Instagram.
"I'm not near perfect... We've all seen that. Bahaha but I do my best. That's all you can ask of anyone. #IACNow @imacelebrityau I hope we can stop hating on either side and just see no one is perfect and send some love."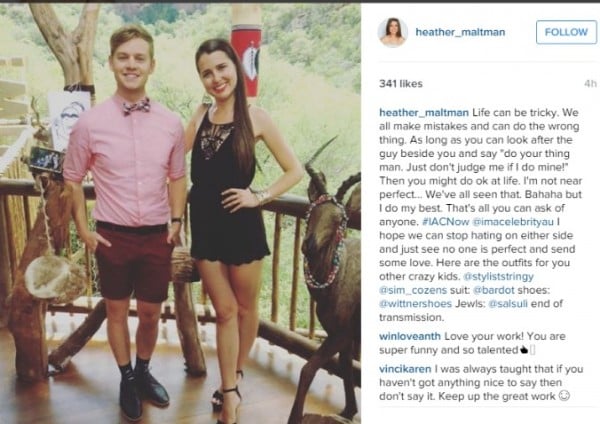 It's the first TV presenting gig for the actress, who spent the summer co-hosting KISS FM's breakfast show with Osher Gunsberg.
After her post, followers were quick to offer their support.
"I was always taught that if you haven't got anything nice to say then don't say it keep up the great work," wrote @Vincikaren, while @therhianon said: "You are doing such a great job and your sparkling personality is really shining on the show!"
She's not the only one who has been accused of inexperience. (WATCH: Shane Warne gets put to the test on I'm A Celebrity. Post continues after video.)
Fellow former The Bachelor contestant Sam Frost has also faced criticism over her hosting skills on the Sam and Rove show, with Kyle Sandilands claiming she'd be out by the end of the year.
"She doesn't have the radio skills. She is a sweetheart and a lovely thing but they will keep blaming people until they realise it [low ratings] keeps happening," he said on the Kyle and Jackie O Show.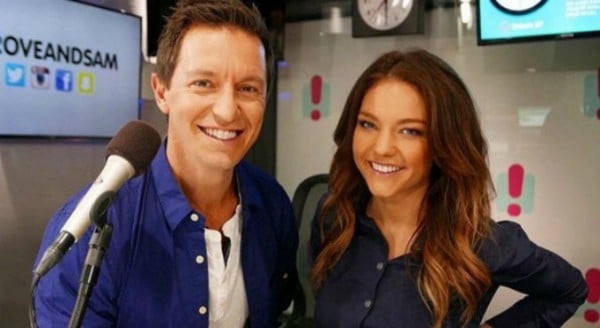 However boyfriend Sasha Mielczarek (who is also frequently featured on the show) jumped to her defense.
"At the end of the day they obviously have nothing else to write about and they're just picking on a girl who is new to the industry", he told The Motherish yesterday.
"I think she's absolutely killing it and I love listening to her on live stream down the coast here every morning, I listen to her from 6am to 9am."
Have you watched or listened to Heather Maltman and Sam Frost?
Mamamia has a whole podcast dedicated to TV hosted by Rosie Waterland. Listen here: