In 2014, a woman's battered body was found stuffed into a suitcase on the Indonesian holiday Island of Bali.
Two people were arrested over the crime: the 62-year-old's teenage daughter, Heather Mack, and her then-partner, Tommy Schaefer.
It was he who claimed to have killed Sheila von Wiese-Mack in a hotel room using the metal handle of a fruit bowl, it was he who was sentenced to 18 years in Bali's notorious Korobokan prison.
But now Mack, who is serving 10 years and gave birth while behind bars, has posted a series of videos to YouTube in which she appears to confess to the crime.
Here's how this bizarre case has unfolded.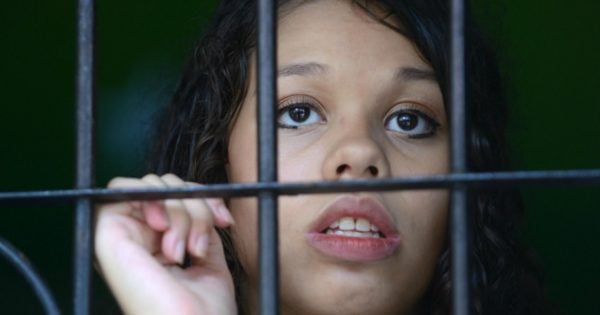 The crime.
Taking a luxurious holiday together, 19-year-old Mack and her mother checked into Bali's St Regis resort on August 4, 2014, where they were joined by Schaefer seven days later.
The trio were due to leave on the 14th, but the young couple checked out two days early, carrying a large suitcase wrapped in a bed sheet, Denpasar Police Chief Djoko Hariutomo told Fairfax Media at the time. Staff offered to assist them with the luggage, but the pair refused and loaded the case into the boot of a pre-booked taxi.
They returned to the lobby and told staff Mrs von Wiese-Mack would pay the bill when she checked out later and requested to open her safety deposit box. Staff refused, and the couple said they would return to the room to fetch more bags.