We sure are a country of sweet-tooths – pavlovas, Anzac biscuits and lamingtons are just about the most recognisable Aussie recipes.
Classic recipes have been tried, tested, perfected and passed on for generations. And boy, Granny didn't skimp on the sugar.
With this in mind, Teresa Cutter — a.k.a. The Healthy Chef — has created three unique twists on the humble lamington – all of which are delicious and just a little bit healthier to boot.
Enjoy!
Lamington Smoothie
This lamington-inspired smoothie has everything you need to maintain your energy, as it's full of healthy fats, protein, vitamins, fibre and minerals.
If you want this as a breakfast smoothie, just omit the raw chocolate sauce in the recipe and add chocolate protein powder before blending.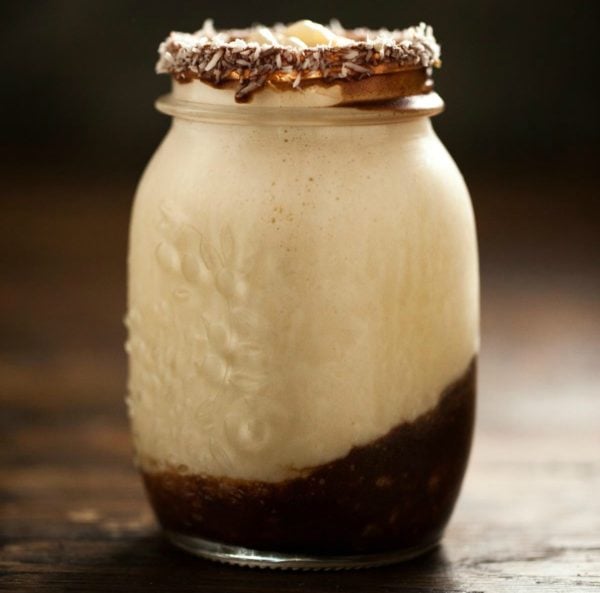 What's great about it
Cashew milk is a heart-healthy milk that helps boost endorphins and helps reduces stress. This is because it's high in the amino acid tryptophan, which helps to make serotonin – the "feel good" hormone. The added frozen banana, protein powder and coconut water makes this a creamy, electrolyte and potassium-boosting, high-protein snack or meal that's perfect after a workout.
Ingredients (serves two)
1 cup coconut water
1/2 cups cashew milk, almond milk or coconut milk
1 spoonful of protein powder
1/2 – 1 frozen banana
1 tablespoon coconut butter or alternatively use tahini for boosted minerals
1/2 teaspoon vanilla extract
small pinch cinnamon ground
1 cup ice
Naked Chocolate fudge sauce
1 tablespoon tahini (room temperature)
1 tablespoon extra virgin cold pressed coconut oil (room temperature)
1/2 tablespoon Naked Chocolat or cacao
1 tablespoon freshly boiled water
PS. If you feel like using a sweetener, try:
1/2 teaspoon maple syrup or stevia or raw honey if needed
Method
MAKE THE CHOCOLATE FUDGE SAUCE FIRST IF USING.
COMBINE tahini, coconut oil and Naked Chocolat into a small cup and mix through until smooth and silky.
TASTE then adjust sweetness if you need it – for me the smoothie part balances the chocolate addition.
LINE the top and the base of a glass with half of the chocolate fudge sauce. You can dip the top of the glass in coconut if you want to make it fancy.
ADD hot water to the other half of the sauce and mix through – set aside.
COMBINE coconut water, cashew milk, protein powder, banana, coconut butter, vanilla, cinnamon and ice.
BLEND until smooth and creamy.
POUR into the glass then drizzle in the rest of the chocolate sauce.
SERVE immediately and enjoy.
Raw Cashew and Vanilla Lamington Bites.
Cashews are high in the amino acid tryptophan, which helps to make serotonin. Cocoa is rich in magnesium, iron, copper, manganese, riboflavin and essential micronutrients for health and vitality. The high flavenoid content of cacao has been scientifically linked to a reduced risk of heart disease, stroke and diabetes. Vanilla helps relax the nervous system and reduce inflammation. It is rich in antioxidants and also enhance mental performance.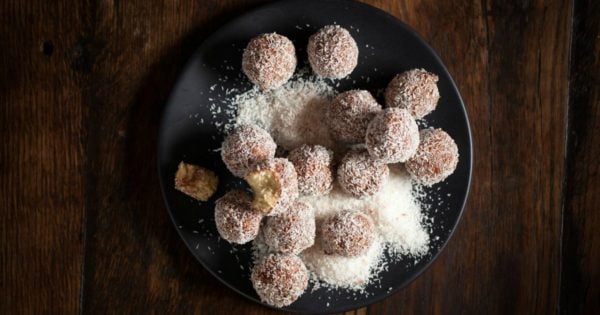 Ingredients (makes 24 lamington bites)
200 g raw cashew nuts
50 g almond meal
1 cup desiccated coconut
1/4 cup organic cold pressed coconut oil
1 teaspoon vanilla extract
1/2 teaspoon sea salt
3 tablespoons maple syrup
(2 tablespoons The Healthy Chef Natural protein powder optional)
Raw Chocolate Dipping Sauce
1/4 cup organic cold pressed coconut oil or cacao butter
1 tablespoon organic maple syrup
1 tablespoon coconut butter or tahini, room temperature
2 tablespoons The Healthy Chef Naked Chocolate or cacao
Method
Combine cashew nuts, coconut, almonds and salt into a food processor.
Process for a few seconds or until the mixture looks like fine golden crumbs. If you are wanting to add more protein then please add two tablespoons of protein at this stage.
Add vanilla, maple and coconut oil.
Mix until the raw lamington comes together.
Roll into small balls and set aside.
Place coconut oil into a small bowl and sit over some freshly boiled water for a few seconds until it melts then remove quickly from the heat.
Add the rest of the ingredients from the dipping sauce recipe and mix well.
Dip lamingtons into the dipping sauce then roll into coconut.
Store in the fridge (covered) for up to one week.
Enjoy and delights
Healthy lamingtons
You will absolutely love my lamington recipe – made from fresh whipped organic eggs, coconut flour, vanilla and raspberries that make them taste purely delicious.
The secret to coating your lamingtons is to lightly spread the chocolate gananche thinly and delicately over the raspberry cake – then lightly dip in your coconut. Be gentle – make them with love and you'll have the most delicious lamingtons you've ever tasted.
Ingredients (makes 24 squares)
6 organic eggs
1 teaspoon vanilla bean paste or 2 teaspoons vanilla bean extract
2 tablespoons raw honey or sweetener of your choice (organic maple syrup, few drops stevia etc)
¼ cup (60 ml / 2 fl oz) macadamia nut oil or your choice of (cold pressed coconut oil, butter or olive oil)
½ cup (70 g / 2 ½ oz) coconut flour (see notes)
2 teaspoons gluten free baking powder
1 cup (150 g / 5 ¼ oz) fresh or frozen raspberries
1 cup (75 g / 2 ½ oz) shredded or desiccated coconut for rolling
Chocolate ganache:
100 g good quality dark eating chocolate 70 % cocoa – finely chopped
100 ml coconut milk or pouring cream
Method
Preheat your oven to 160 C / 320 F.
Whip the eggs, vanilla and honey for 10 minutes until light and creamy.
Pour in the macadamia nut oil with the eggs still whipping and mix well.
Add the coconut flour and baking powder and mix until combined.
Pour lamington cake mix into a square 22 cm baking tin lined completely with baking paper.
Sprinkle the raspberries evenly over the top.
Bake for 35 – 40 minutes or until cooked through.
Cool for 30 minutes before lifting out from the tin to completely cool.
Divide cake into 25 mini squares.
Make your chocolate ganache:
Heat the cream or coconut milk in a small pan until almost boiling. Turn off the heat.
Add the chocolate and allow to sit for two minutes without stirring.
Stir the mix until you have a smooth silky ganache.
Spread or dip each square of lamington with a little chocolate ganache.
Roll in coconut and place onto a tray lined with baking paper to set. Enjoy.
Do you have a great recipe for lamingtons?