We sure are a country of sweet-tooths – pavlovas, Anzac biscuits and lamingtons are just about the most recognisable Aussie recipes.
Classic recipes have been tried, tested, perfected and passed on for generations. And boy, Granny didn't skimp on the sugar.
With this in mind, Teresa Cutter — a.k.a. The Healthy Chef — has created three unique twists on the humble lamington – all of which are delicious and just a little bit healthier to boot.
Enjoy!
Lamington Smoothie
This lamington-inspired smoothie has everything you need to maintain your energy, as it's full of healthy fats, protein, vitamins, fibre and minerals.
If you want this as a breakfast smoothie, just omit the raw chocolate sauce in the recipe and add chocolate protein powder before blending.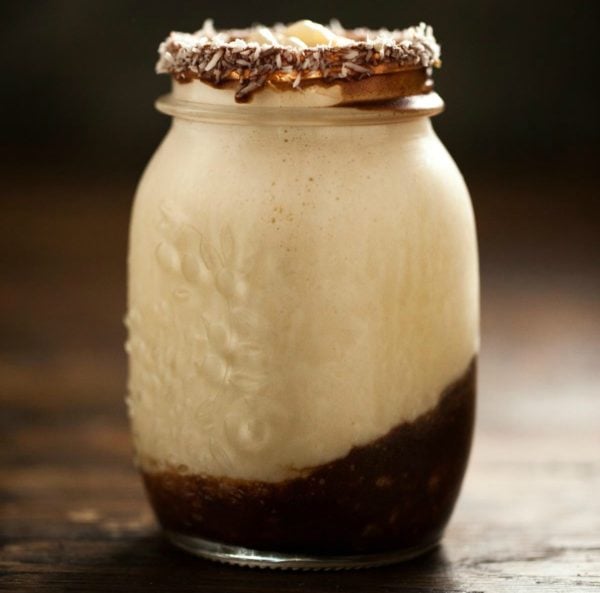 What's great about it
Cashew milk is a heart-healthy milk that helps boost endorphins and helps reduces stress. This is because it's high in the amino acid tryptophan, which helps to make serotonin – the "feel good" hormone. The added frozen banana, protein powder and coconut water makes this a creamy, electrolyte and potassium-boosting, high-protein snack or meal that's perfect after a workout.
Ingredients (serves two)
1 cup coconut water
1/2 cups cashew milk, almond milk or coconut milk
1 spoonful of protein powder
1/2 – 1 frozen banana
1 tablespoon coconut butter or alternatively use tahini for boosted minerals
1/2 teaspoon vanilla extract
small pinch cinnamon ground
1 cup ice
Naked Chocolate fudge sauce
1 tablespoon tahini (room temperature)
1 tablespoon extra virgin cold pressed coconut oil (room temperature)
1/2 tablespoon Naked Chocolat or cacao
1 tablespoon freshly boiled water
PS. If you feel like using a sweetener, try:
1/2 teaspoon maple syrup or stevia or raw honey if needed
Method
MAKE THE CHOCOLATE FUDGE SAUCE FIRST IF USING.
COMBINE tahini, coconut oil and Naked Chocolat into a small cup and mix through until smooth and silky.
TASTE then adjust sweetness if you need it – for me the smoothie part balances the chocolate addition.
LINE the top and the base of a glass with half of the chocolate fudge sauce. You can dip the top of the glass in coconut if you want to make it fancy.
ADD hot water to the other half of the sauce and mix through – set aside.
COMBINE coconut water, cashew milk, protein powder, banana, coconut butter, vanilla, cinnamon and ice.
BLEND until smooth and creamy.
POUR into the glass then drizzle in the rest of the chocolate sauce.
SERVE immediately and enjoy.
Raw Cashew and Vanilla Lamington Bites.
Cashews are high in the amino acid tryptophan, which helps to make serotonin. Cocoa is rich in magnesium, iron, copper, manganese, riboflavin and essential micronutrients for health and vitality. The high flavenoid content of cacao has been scientifically linked to a reduced risk of heart disease, stroke and diabetes. Vanilla helps relax the nervous system and reduce inflammation. It is rich in antioxidants and also enhance mental performance.