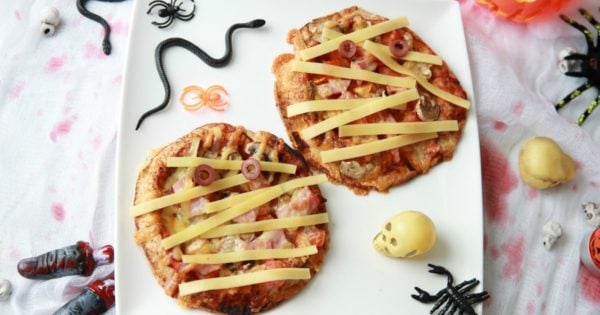 I don't want to shock anyone but it seems that Halloween is once again just around the corner. For many parents that means sugared-up kids and a side of guilt for parents. We all know that Halloween is typically filled with lollies and chocolate (and trips to the dentist to deal with the aftermath). As parents we want to do the best by our children. Of course we don't want them to miss out on the fun with their friends but we also want to do the best for their health.
The good news is that Halloween doesn't have to mean endless sugar and cavities. There are heaps of really cute Halloween themed treat ideas that you can make for the kids which will satisfy them, and your parental guilt. These ones are from Susie Burrell who comes up with the greatest ideas for fun kids' food (and I've added a couple of my own favourites at the bottom).
Mummy Pizzas.
What you'll need:
Packet of 8 mini wholemeal pita pockets
140g tub of Leggo's pizza sauce (1.5g sugar per tablespoon)
3 tomatoes, thinly sliced
8 button mushrooms, thinly sliced
16 thin slices of unprocessed ham
8 slices of light tasty cheese
1 jar of sliced Kalamata olives
Method:
1. Preheat oven to 200 degrees Celsius.
2. Line 2 baking trays with baking paper.
3. Distribute the pita pockets on the baking trays. Top each with 1 tbsp of pizza sauce and smear out with the back of a spoon. Then top each pizza with 2-3 slices of tomato, sliced mushroom and 1-2 slices of ham so it covers the whole pizza.
4. Slice cheese slices long ways in half centimetre strips to make the mummy bandages.
5. Place the cheese strips along the pita pockets to look like wrapped bandages. Tuck two pieces of sliced olives into the cheese bandages as eyes.
6. Bake in the oven for around 10 minutes or until the cheese has begun to melt and the edges are beginning to brown and crisp.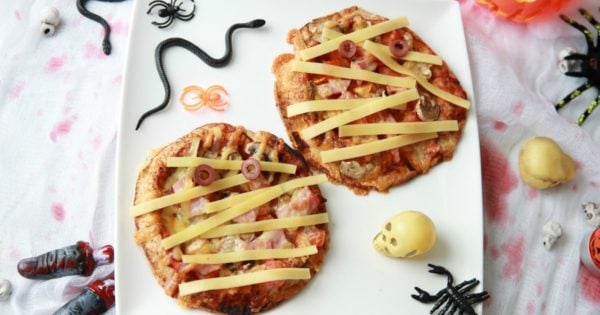 Spooky and delicious. Image: Philips Sonicare/damianshaw.com
Banana Ghosts.
Makes 12 ghosts.