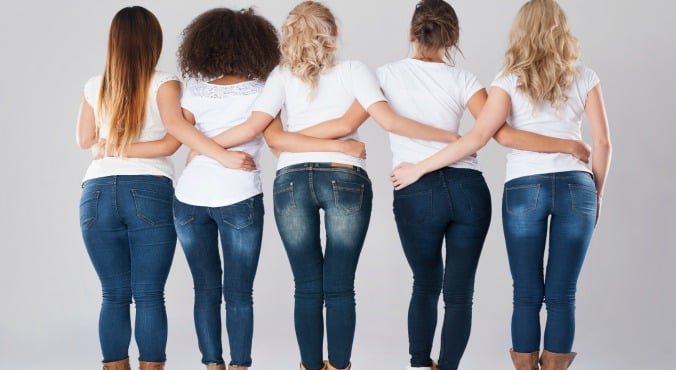 Image via iStock.
On the one hand, skinny jeans are my go-to style; flattering, easy-to-wear and they won't betray you if you haven't had time to wash them that week. However if we're being honest, they're not always all that comfortable – and good luck to you if you need to bend down and touch your toes.
And it's more than just trivial complaints – I know of one woman who didn't wear skinny jeans at all for 10 years because of how restricting they were, while another has actually stopped wearing jeans to work because they were giving her such chronic stomach pains when she sat down.
RELATED: How often should you wash your jeans?
Still, that pales in comparison to the recent experience of one Adelaide woman, who was hospitalised for four days after her skinny jeans impaired her ability to walk.
The 35 year-old had been squatting and lifting boxes all day helping a relative move house and found her jeans felt increasingly uncomfortable during the day, according to a report published in the Journal of Neurology, Neurosurgery and Psychiatry. (Post continues after gallery.)
Celebrities who love their leggings.
Live Science reports that as she was walking home, her feet started feeling numb and she tripped and fell. Unable to get up, she spent hours lying on the ground before she was found and taken to hospital.
Her calves were so swollen that doctors had to cut her jeans off her.
"We believe it was the combination of squatting and tight jeans that caused the problem," said Dr Thomas Kimber, of the Royal Adelaide Hospital who treated the woman.
RELATED: Health horror story: Eating probiotic yoghurt fed the parasites in my gut
Test revealed she had almost no muscle strength in her ankles and toes and the jeans had likely reduced the supply of the blood flowing to the muscles in her legs, which then caused the muscles to swell and the nerves to compress.