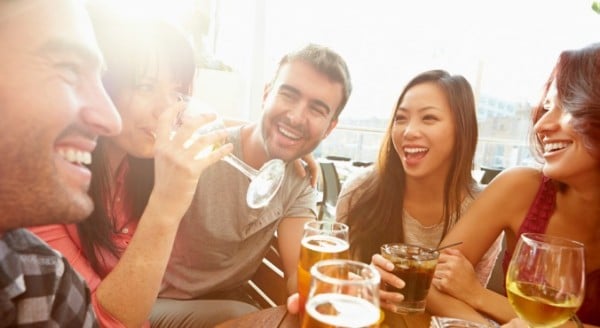 We've done the hard work (well, except for the working out – that's on you) and found some mindboggling new nutritional stories to get you feeling peppy.
Activated coconut
Put your green chia seed smoothie down and listen up. Activated nuts are so last year. Now it's all about activated charcoal.
According to Americans (they're people that live on the opposite side of the world), activated charcoal is the answer to inner health. An article published in the Sydney Morning Herald says activated charcoal is being used to deep clean your insides and purify the skin, activated charcoal is already making its way onto menus and hipster chalkboards in Australia.
RELATED: The 7 health fads of 2014 (and whether they were worth your time)
Having been used medicinally since 1831 for its ability to absorb toxins, activated charcoal is no longer the domain of alcohol poisoning or accidental ingested household chemicals, and rather, is popping up in pantries and bathroom cupboard all over the place (some say it's also great for whitening the teeth). Not only does it give your liver and kidney a solid clean out, but it's also said to aid a sore throat, reduce the severity of a common cold and even prevent illnesses such as Bali Belly. Plus advocates say it makes a great topical treatment for infection and insect bites.
So what exactly is activated charcoal? Can I just scrape some ash out of the fire and call myself healthy? Well, no. Activated charcoal is made from coconut shells predominantly and is "activated" using either steam or chemicals.
Health professionals have been quick to point out that there is no scientific evidence that activated charcoal possesses any real detoxifying properties and rather, may inhibit the effectiveness of some medications and supplements by blocking their absorption in the stomach.
It kinda makes me sad to think of Mia Freedman sitting alone in the corner munching on her activated nuts. :(
This is your brain when you give up sugar
Thought the effects of giving up sugar were all in your head? Well, you're wrong.
According to a new article published this week on iflscience.com, author Jordan Gaines Lewis details exactly what happens to your brain when you go cold turkey on the white stuff.
RELATED: Donna Hay: Paleo diets and quitting sugar are 'just a new eating disorder'
Firstly, you have withdrawals. Like, real ones. In much the same way an addict to narcotics experiences tremors, blurred vision and teeth chattering, so too do those withdrawing from sugar.
The reasoning, as explained in the article,  is because of an emotional and physical connection we have with the substance. Sugars are, according to Gaines Lewis and his friend and fellow graduate Andrew, a natural reward which makes the body feel good when we eat it. We then chase the feeling in the hopes of recreating it. The downside is that sugars are deliciously addictive, so the body craves more and more. Therefore sugar addiction is very much a real thing, and not just a state of mind.
Gaines Lewis says, "There are four major components of addiction: binging, withdrawal, craving, and cross-sensitisation (the notion that one addictive substance predisposes someone to becoming addicted to another)." Just as is the case with any addiction, all of these components are observed when people give up sugar. Actually, we're getting a headache just from all the conflicting arguments.