1. Couple held hostage in Afghanistan explain why they continued to have children in captivity.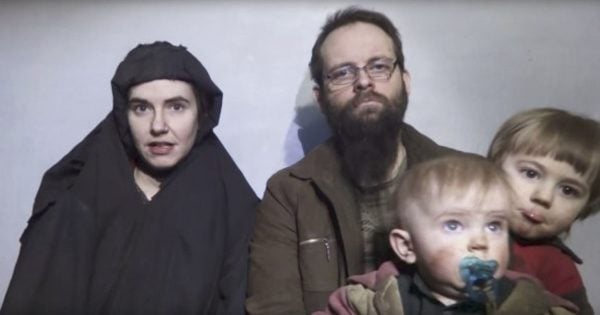 Joshua Boyle and Caitlin Coleman, from Canada and the US respectively, were captured while travelling through Afghanistan five years ago.
On Wednesday, after years being held hostage by Taliban-linked extremist group Haqqani, the couple - and their three children - were released.
All three children were born in captivity. Coleman was pregnant with a son at the time of their capture, and went onto have another son and two daughters - one died - while imprisoned in Afghanistan.
Now, the former hostages have spoken out about why they decided to have children while living behind bars, in a foreign country.
"[We decided] we should make the best of this and at least go home with a larger start on our dream family," Boyle told The Associated Press in an email, Channel Nine reports.
"We're sitting as hostages with a lot of time on our hands. We always wanted as many as possible, and we didn't want to waste time. Cait's in her 30s, the clock is ticking."
Boyle said the couple had always planned on having a big family. The pair's eldest son is now four, their middle son two, and their daughter younger than six months.
"Honestly we've always planned to have a family of five, 10, 12 children ... We're Irish."
Upon landing at Toronto's airport on Wednesday, after being rescued by Pakistani forces, Boyle said the Haqqani network killed their infant daughter and raped his wife during the years they were held hostage.
The Taliban-linked group has since denied those claims.