Perhaps the most startling aspect of the latest allegations against now-disgraced Hollywood film producer Harvey Weinstein, 65, is the way so many who worked with him, who were abused by him, appeared accustomed – resigned, almost – to his behaviour.
The documentary Working With Weinstein, presented by ABC's Four Corners on Monday night, explored allegations of sexual harassment and abuse against the producer from people who worked with him in the UK.
Between the horror stories of violence and sexual coercion, there is an underlying sense of resignation. Notions such as, "That was routine; We learnt to manage him; I felt I had to warn other women because that was who he was", show more than anything the extent and consistency of his alleged abuse.
The documentary includes several interviews with former assistants and staff at Miramax and The Weinstein Company, all who speak of the fear Weinstein cultivated during his reign as "king" of Hollywood.
Actor and producer David Parfitt, for example, said Weinstein physically assaulted him and sexually harassed actress Michelle Williams on the set of the 2011 film, My Week With Marilyn.
"He was turning up on a regular basis on set, desperate to be around Michelle as far as we could see in a sort of creepy, stalkerish way. In particular, turning up on a day when we had nude swimming," Parfitt said, News Corp reports.
Williams, 37, received an Oscar nomination for her work playing late actress Marilyn Monroe in the film, but Parfitt said Weinstein was furious she wasn't featured more heavily.
"When we actually got through the main shoot and into the test, he decided that it wasn't enough Marilyn's film and he wanted more Marilyn," he said.
"The scores came in at the end of the test, and they were very good, and I think he'd expected it to be not good.
"In his fury about it doing so well when he thought it wouldn't, it was."
Parfitt said the tension came to a head when Weinstein "pinned me up against a Coke machine and threatened all sorts of stuff". He said it "was very scary" and he decided never to work with the producer again.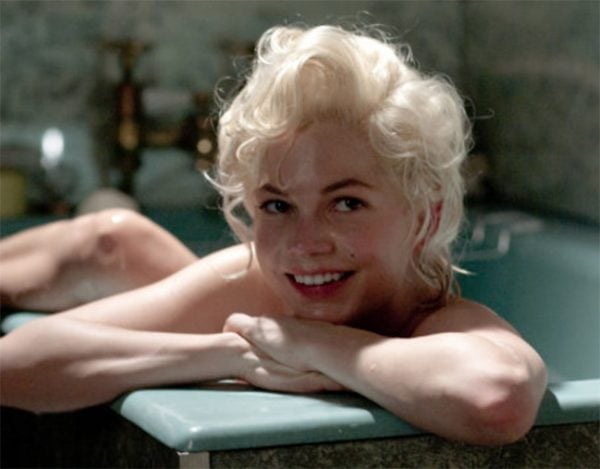 The documentary details another allegation of abuse at the hands of Weinstein that occurred inside a hotel room.
Similar to allegations that have come before, Laura Madden's story features Weinstein removing her clothes, masturbating and asking her into the shower. It's a trademark trifecta Weinstein is now infamous for.
Madden, who is a former director of production at Miramax, said the encounter happened when she met Weinstein for the first time.
"He was wearing a robe and masturbating. And then... There were constant new requests," she said.
"I remember going into the shower with him, and at that point just feeling completely out of my depth and horrified and crying. And I think he was a bit exasperated and sort of said: 'Oh, you know, okay, okay, I'll leave you to it'."
Madden also explained there was a 'code' among Weinstein's staff, and that female workers would go to measures such as sitting together and wearing bulky clothing in an effort to ward off his gaze.
"There was just this fear of the wrath of Harvey," she said.
WATCH: The trailer of 'Working With Weinstein' from ABC's Four Corners.

Former Miramax staffer Zelda Perkins describes stories such as Madden's "routine" for Weinstein.
"Harvey's requests were always the same. He would appear in the room either totally undressed or just in his underwear, he asked you to join him in the bathroom. He was insistent, and he didn't take 'no' the first time," she said.
"As I worked for him over the years, it just was the routine."
Protecting women from Weinstein became an unofficial part of Perkins' job. And, when a fellow staffer came to her alleging Weinstein tried to rape her, Perkins said she confronted the film producer, only to be told to sign a non-disclosure agreement and offered money to keep quiet.
Listen: Tracey Spicer joins Holly Wainwright and Rachel Corbett on Mamamia Out Loud to discuss the year that was #MeToo on Mamamia Out Loud... Post continues after audio.
Weinstein has denied all allegations of sexual misconduct since actress Ashley Judd took her story public in October last year.
Since then, dozens of women have come forward speaking out against Weinstein, all with similar stories of sexual abuse and a gross exploitation of power.
Police in the US are investigating cases of alleged sexual assault and rape, and UK police are investigating allegations against Weinstein from nine different women.
As well as this, a group of alleged victims in the UK are taking action in the Civil Court, determined to fight back after years of fear and silence.