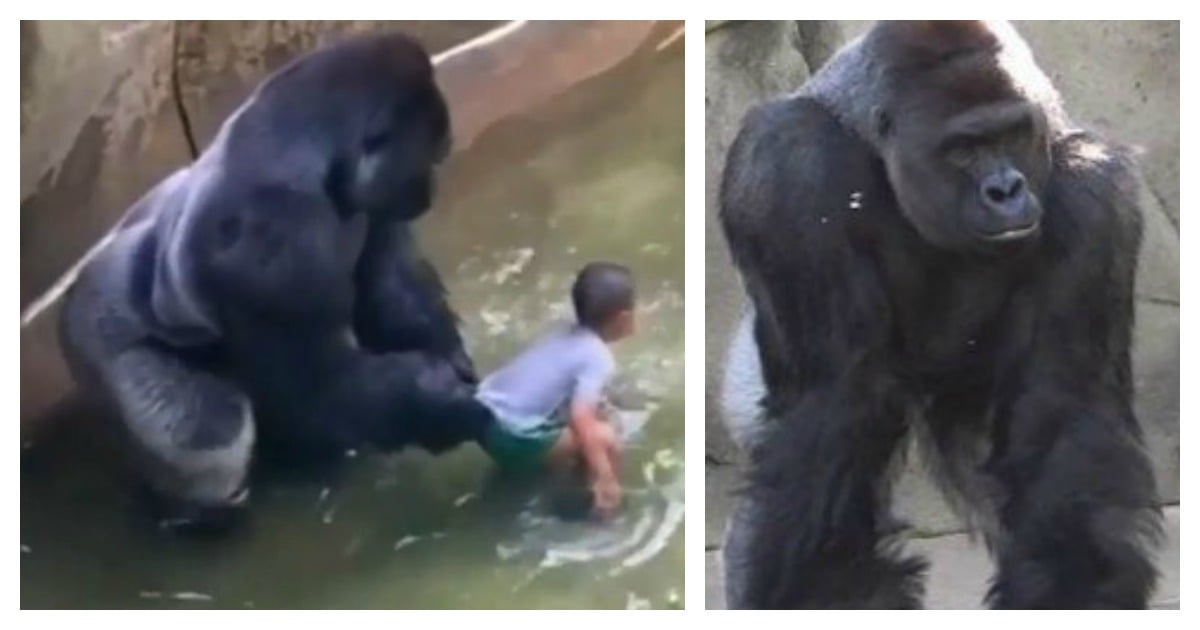 It only took moments for a boy to find his way into a US zoo's gorilla enclosure on the weekend, sparking an incident which led to the killing of the endangered animal, according to a witness.
Kimberley Perkins-O'Conor told CNN she was at the Cincinnati Zoo's gorilla enclosure when the incident began and heard the three-year-old boy joking with his mother about going into the enclosure's moat.
She said the boy got in while the mother was briefly distracted by other children who were with her.
"All of a sudden you heard a splash and an older gentleman started yelling 'there's a child in there, there's a child' and everyone started screaming," she said.
"The larger gorilla was attracted to the screaming and he just came barrelling to the edge of the moat and then realised what's going on."
She said the gorilla, a 200 kilogram animal named Harambe, did not initially act aggressively towards the boy and instead appeared to be "helping him".
"He dragged the child a little further down into the moat and he … almost looked like he was helping him, pulled his pants up, stood him up, and then all of the sudden everybody started screaming again, and he pulled him completely out," she said.
Ms Perkins-O'Conor told CNN the screams of those watching on seemed to agitate the animal.
"I saw him again later, once he was on top of the habitat, dragging the boy, pulling him underneath him. It was not a good scene," she said.
"He at one point had him between his legs and was hovering over him and wasn't budging.
"Once he pulled him out of the moat and on top of the habitat where it was all cement he was being very aggressive.
"The boy did try to separate himself and he pulled the boy back in, tucked him underneath and really wasn't going to let him get away.
"He literally picked the boy up by his calf and dragged him toward another cave to basically get him out of the view of this crowd that hadn't yet dispersed."
CNN reported another witness, Bruce Davis, saw the gorilla throw the child.
"From what we saw [the child] could have been killed at any second," he said.
"He threw him 10 feet in the air, and I saw him land on his back. It was a mess."
Family facing death threats
The child's family are now facing death threats on social media.
In the face of international outrage about the ape's death, a woman claiming to be the child's mother took to Facebook to defend her actions on the day saying, "as a society we are quick to judge how a parent could take their eyes off of their child and if anyone knows me I keep a tight watch on my kids. Accidents happen but I am thankful that the right people were in the right place today."