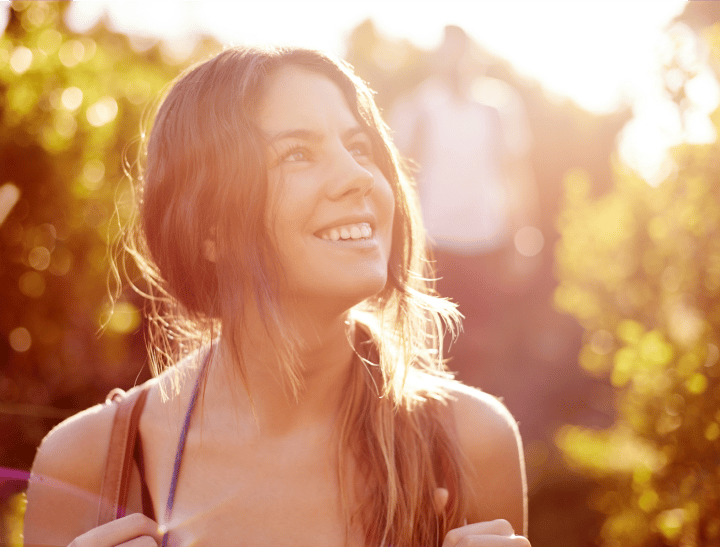 By Deborah Stachelski for Society Letters
Do you know someone who is always happy, no matter what? You probably think they don't have any problems. I mean, look a their perfect life, right? Well, research shows that happy people actually don't have better lives than unhappy people. They have problems like everyone else. The difference is, they learned some tricks along the way to help themselves choose happiness over unhappiness, every day.
Does delicious food make you happy? Watch our recipe for fail safe pancakes below. Post continues after video. 
Here are some things I found out about those ever-smiling people and their 15 secrets to being happy:
1. Happy people have insight.
They work hard to identify the things that make them unhappy, and then take steps towards change. They are incredible self-aware, and don't stay stuck in an unhappy emotional place.
2. They avoid stress.
Happy people avoid unnecessary stressful situations. They have learned to say no, and they avoid high stress situations that can lead to anxiety, and unhappiness.
3. They are not happy all the time.
They have their sad moments. They cry. They are human. They accept that this is okay, and don't let it affect their overall joy.
4. Happy people exercise.
Whether it's taking a walk, lifting weights, swimming or taking the dog to the park to play, happy people get active. Exercise helps keep down stress hormones, and boosts those "feel-good" hormones.
5. They know how to move on, and refocus.
Happy people don't let themselves get stuck with their feelings. They acknowledge when something sad happens, deal with it, and choose to move on and refocus on the positive that can come out of it. They know how to take criticism well, and focus on the task at hand without taking it personally and getting down on themselves.
6. Happy people do it afraid.
Being happy and optimistic doesn't mean you don't experience fear. Happy people fear failure just as much as anybody. The difference is they do it afraid anyway, and as a result, build their self-esteem and confidence. They have an indifferent, almost detached approach to failure - as though if it happens, it's not due to their limited ability or incompetence. They have the ability to attribute failure to factors other than themselves, for example it may not have been the right time, or someone else had more experience.
7. They don't hold grudges.
Happiness is easily poisoned by grudges and resentment. Examining negative feelings is important, as we can't simply repress them. Being mindful and calm when examining those feelings is a good way to process them, without letting them control you. The sooner we learn to let those grudges and negative feelings go, the quicker happiness will start to bubble up in our life.