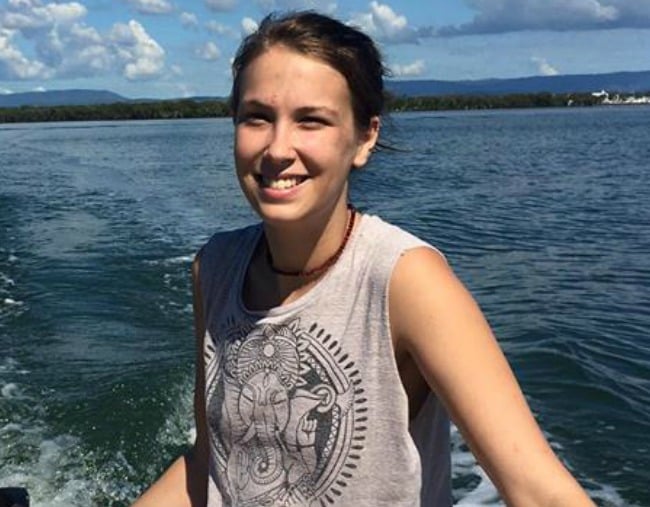 With AAP. 
Hannah Quinn is just 23-years-old.
The part time barista has dreams of becoming a kindergarten teacher. Until a week ago, she was studying early childcare teaching at Petersham TAFE, while working in a cafe on Sydney's northern beaches.
She's a vegan who loves animals and talks passionately about the environment on her Facebook page, Hannah Hugs Trees.
On that page, there's countless photos of Hannah cuddling cats, proudly holding newborn babies, and smiling wistfully from the branches of tall trees.
According to News.com.au, Quinn lives in Redfern with her mum, Megan, a passionate anti-whaling, pro-vegan activist. Her father, Dean Hintz, owns the successful Miettes cafe in the Brisbane suburb of Coorparoo.
Last Monday, Quinn was charged with murder.
On Friday, August 10, Quinn went to the shops for some food and coffee for herself and her boyfriend, 28-year-old actor and martial arts expert, Blake Davis.
She had only just returned to Davis' Forest Lodge apartment, when two men entered wearing balaclavas.
They were armed with knuckledusters, pepper spray and a fake gun.
It's alleged Quinn asked, "Who the f**k are you?".
Neighbours claim they then heard Davis say, "There's no money here".
According to Quinn's lawyer Tom Hughes, one of the masked men, Jett McKee, then threatened the couple.