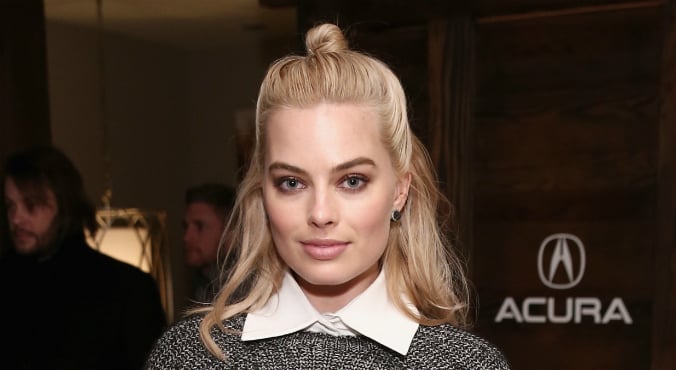 Image: Getty.
The half-bun is the latest hairstyle that's popped up on our hair radar. It's a zingy little style that is fun, flirty and totally now.
The best thing about it? It's so easy to achieve. But if you're a bit of a hair dunce, we've created this how-to. In GIFs.
Related: The "shag" is the hairstyle of 2015.  
It is what it says it is: a small bun, placed right on top of your head. Celebrities such as Margot Robbie, Sienna Miller, and our very own Aussie blogger Margaret Zhang have been seen rocking the look. (Post continues after gallery.)
Celebrities wearing half-buns
Whatever your hair type or length, let the half-bun perch on top of your head like a sassy little friend. You can definitely pull off the hairstyle of the season! Bonus points for having the hair conveniently off your face, while also showing off your hair length.
Related: This new hair colour trend is inspired by your Instagram filters. 
"It's a new take on the half-up, half-down style," says Rebecca Coffey from LHD Organic Hair. "The way you wear it shows your personality. "It's easy, relaxed and there is a version out there for anyone."
This hairstyle looks its best when it's casual. Don't over-think it.
"Bun is a term I would loosely use to describe this style," says Rebecca. "It's a loop, a braid hooked up, a bunched knot."
Ready to try out this new style? Welcome to The Glow Hair Academy. Please take a seat.
 Step 1: Prep your hair.
Textured, second-day hair makes this style look modern. Rebecca recommends using a heat styler to create waves in the ends, or braiding it beforehand to create messy kinks.
After washing my hair, I sprayed a sea salt spray (John Frieda Beach Blonde Ocean Waves) through my hair, and combed the product through using my Lady Jayne Stratton Wide Tooth Comb. After blow-drying, I created two french braids and then slept in them.