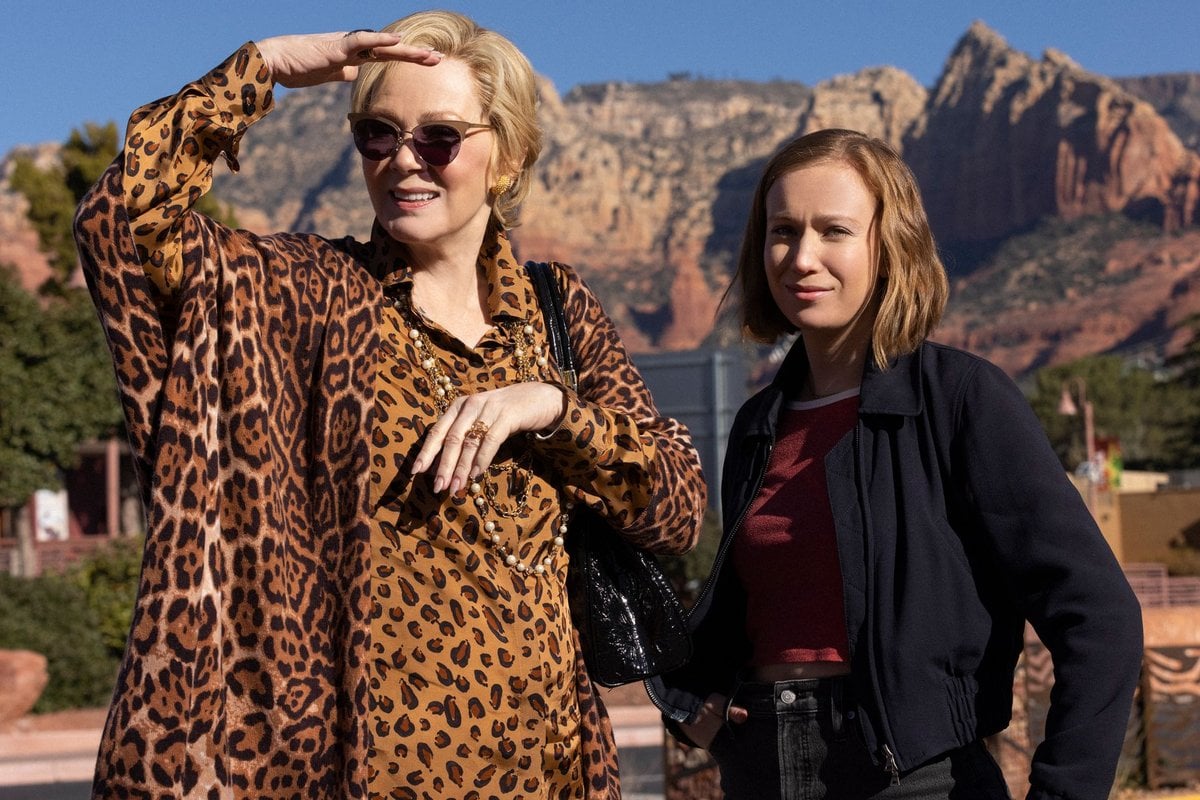 When Jean Smart stepped onto the set of Hacks to film season two, she felt an intense sense of nervousness wash over her.
This was despite the fact she was coming off what could only be called a perfect awards show run, with her role in the Stan series Hacks winning her everything from an Emmy and a Golden Globe to Best Actress statues from the Hollywood Critics Association, the Television Critics Association Awards, the Critics' Choice Television Awards, and the Screen Actors Guild Awards.
In the critically acclaimed comedy, the actress brings to life a legendary Las Vegas comedian called Deborah Vance, who in the first season was grappling with her show spots being given away to younger performers. 
A situation that forced her into working with a young writer called Ava, played by comedian Hannah Einbinder in her first acting role. Ava too was watching her career options dry up after effectively being canceled for sending out a questionable tweet. The two women's sharp and volatile dynamic was very much the crux of the show's storyline.
Take a look at the trailer for Hacks season two on Stan. Post continues after video.
After such a critically acclaimed first season, the cast and crew were acutely aware that this time around they not only had to deliver the same show magic, but also surpass it.
"We definitely felt pressure around it," Jean told Mamamia when describing working on the second season of Hacks.
"All of us on set we were thinking to ourselves 'ooohhh, is everyone going to actually like this?'" Hannah Einbinder added. "But as it started to come together and as we got deeper into the shoot we just realised we have to trust ourselves because that is what everyone loved about the first season.
"The truth is, our writers are such expert world builders, and they have made these wonderful vivid characters for us to play. They have already done that detailed work, so it's much more straightforward for us this season. 
"I think audiences will be shocked and excited when they see it."
The on-screen chemistry between Jean and Hannah is an element that really allowed the first season of Hacks to fly and their bond was cemented before the cameras even began to roll.  
Just before the first COVD-19 lockdown swept the world, Hannah became the youngest stand-up, at 23, to perform a set on The Late Show With Stephen Colbert, establishing herself as the new voice to watch in the comedy space. But the pandemic halted the momentum of her burgeoning career, and she was left wondering what was next. 
When the Hacks script came along, she was instantly drawn to the role of Ava, but nervous about auditioning with the award-winning Jean Smart in what would be her first professional acting job. 
But Jean, who was already aware of Hannah's work and wanted her for the part, called her the night before their screen test, warning her that she would be walking into an intimidating environment with the COVID protocols in place and then talked her through the process so she felt comfortable enough to do her best work.