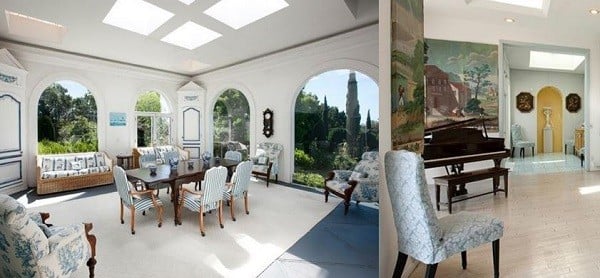 Gwyneth Paltrow and Chris Martin are "consciously uncoupling" with their New York penthouse apartment.
The entire condo is white – it's like a floating cloud hovering stylishly above NYC. There are three bedrooms; 3.5 bathrooms; and the kitchen is a marble dream. It was on the market for a cool $US14,250,000 two months ago but now it's only $US12, 850,000.
The Tribeca abode embodies all the impossibilities you'd expect from the superstar pair. Glamorous-but-understated, homely-but-magically-uncluttered, crisp-but-soothing…
In other words completely and utterly unachievable for real humans.
But we can look.
We can take a peek around the 360 square metre apartment, which includes more than 60-square-metres of living/dining space; floor-to-ceiling windows throughout; and a three metre wide and 14-plus-metre-long east-facing terrace.
Then there is the cream swinging couch in the lounge room. (It swings people, it swings. inside. the. house.)
This couch, that's actually an antique Indian door, painted white and topped with silk pillows, makes me feel better about my own Gumtree-brought monstrosity. Why? Because I can't manage to sip on a cup of tea without spilling it when I'm sitting on a stationary seat, let alone a swinging one.