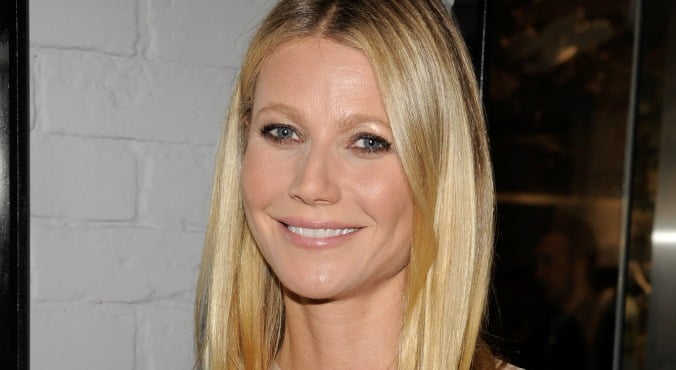 Image: Getty.
'Gwyneth Paltrow' and 'affordable' are not words you'd usually find in the same sentence.
After all, this is the woman whose annual Goop Christmas gift guides feature essentials like $125,000 gold dumbbells, $4700 juicers and $2300 gilded playing cards. Which is fine if you're a member of, say, the Packer family, but not exactly budget-friendly for the rest of us.
However, it seems the actress' latest venture won't blow a hole in the average pay packet.
This week marks the official launch of Paltrow's organic makeup collection in conjunction with Californian brand Juice Beauty. The Phyto-Pigment Color line includes 78 face, eye and lip products made with organic ingredients like berries, flowers, seeds and fruit. But, of course.
What's more surprising is the price range — the products retail for between US$20-$48, which is approximately $28-$69 in Aussie terms. Sure, these aren't bargain basement figures, but they're certainly less expensive than we'd anticipated.
Watch: Why a shimmer block deserves a spot in your makeup bag this summer. (Post continues after video.)
For instance, you can pick up a a tube of Liquid Lip for $AUD30 in a shade named after one of Paltrow's A-list friends or family members. Apple, Drew, Cameron, Blythe, Reese — the gang's all there, and it seems they were a great source of inspiration for Gwynny.
"I'm very inspired by bright lip colours… I have some girlfriends who wear bright lipstick all the time, and my mum wears bright lipstick," the 43-year-old tells Yahoo Beauty. There's even one called 'Gwyneth' for all you true fans.
The range also includes finishing powders, concealer, serum foundation, a primer, blush, bronzer and eye pencils. Paltrow, who forged a partnership with Juice Beauty through a mutual investor, says the collaboration took more than a year to develop. (Post continues after gallery.)
Gwyneth Paltrow on Instagram
"I really saw a huge white space in the makeup, beauty market in that, you know, there's really nothing that was organic and completely non-toxic that was high-performance and that I could wear on the red carpet," the Mortdecai star tells Yahoo Beauty.
She's particularly proud of how bright the colours are.
"One of the great things about Juice Beauty is all the pigment. You know, normally with really natural and organic makeup it's hard to get that concentration of pigment and so we managed to crush a lot of flowers to get the pigment very bright," she said.
"I had been playing a lot with bright colours and that sort of frivolity and just how dramatically it can change your look."
There you go. You can now wear a little bit of Gwynny on your face, and it won't cost you the world.
What's your favourite new beauty product?