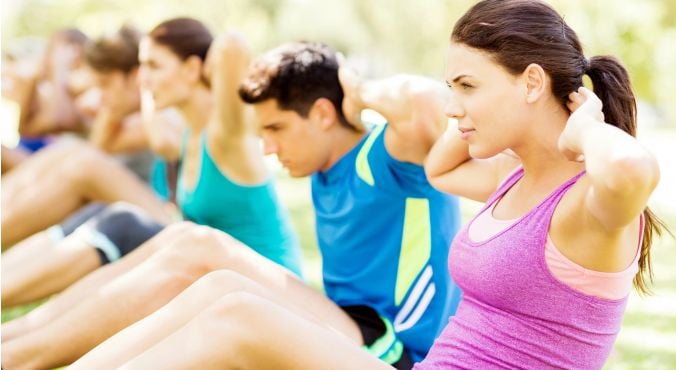 Image via iStock.
Group fitness has to be one of the most affordable ways to train. You get all the benefits of seeing a trainer regularly, and there's the potential to get similar results to what you would through one-on-one sessions. Win-win.
As a personal trainer, I love running group fitness classes because it means I can interact with more women and teach them how to get the most out of their workouts. Here are eight ways to do so:
1. Match your session to your goal.
Want to tone up, lose weight, get fit and be more body confident? Many women will answer 'Yes' to all four. In that case, a circuit-style outdoor workout offering a cross section of weights/resistance, high intensity cardio and core workout is best. It'll give you a nice balanced workout and push you out of your comfort zone.
If it's flexibility, core strength and balance you're after, yoga, Barre and Pilates are your best bet. To avoid dropping out, find a class close to work or home that best fits your schedule — if a class fits into your life, you are less likely to make excuses not to go.
For cardio fitness, perhaps a dance style workout or spin class is more your vibe
And if you need to get fit for a Fun Run, join a running group that incorporates a little body weight strength work to increase strength and decrease the chance of injuries.
2. Join with a friend.
Having the added support of knowing someone can help shake those nerves when it comes to group classes. Find out what you both want from a class (in terms of goals/intensity), then start Googling what's available in your local area or work district.
3. Keep up with the "elite" members of the group.
An easy way to push yourself is to hang with the leaders of the pack. Yes, you can totally start at your own pace — that's one of the beauties of a group workout — but if you want to really smash through your goals, working out around those fitter individuals will see you breaking through your plateaus faster than ever. (Post continues after gallery.)
How the rich and famous stay fit
4. Aim to work out at least three times per week.
With most group workouts costing between $30-75 per week, it makes sense to go regularly and get the most out of your money. Many PTs and gyms offer discounted rates for group training and this works in your favour. The more sessions you get in, the fitter/stronger/leaner you become, and when people get results they're more likely to continue on their fitness journey.
Three sessions spread out over the week is manageable for most and will really set you up for some obvious physical results in as little as four to six weeks. It's important to make that healthy lifestyle commitment and not have your fitness routine be something you do for a few weeks and then drop.