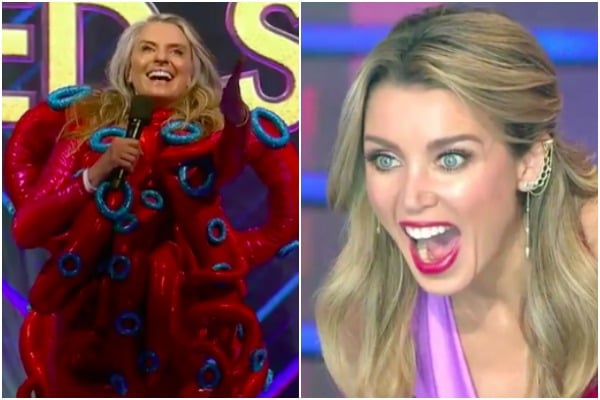 When Channel Ten approached Gretel Killeen and said "Hey, Gretel, we think you'd make a great octopus on our new show The Masked Singer Australia" the comedian, TV presenter and author… paused.
"What a crazy thing to do," she thought.
For the former Big Brother host, the decision to say yes came from a place of bravery.
"It's weird what you say yes to in life. A lot of our decisions are instinctive," she told Mamamia.
Here's Gretel's performance as the Octopus on episode one of Masked Singer Australia. Post continues after video.
If you Google Gretel's name, 'singer' isn't something you'll spy on her Wikipedia page, but that's not to say she hasn't sung in front of a crowd before.
"When I was 20 I was in a band and we sung once publicly – there were two people in the audience," she laughed.
Another brief performance in a pub a few years later, and an appearance in a cabaret show 18 months ago, pretty much sums up Gretel's experience with the world of music, but that wasn't going to stop her having a go.
"I went on YouTube to learn how to sing," she said. "I found some exercises and practiced everyday."
For Gretel, stepping out onto The Masked Singer Australia stage was completely nerve-racking and absolutely terrifying, but that's precisely why she did it.