It's the crash Grant Denyer says he was lucky to survive. A Lotus rally car, a winding-tree lined road, a vital split-second decision.
And it was all captured via terrifying dashcam footage aired Tuesday evening on Channel 10.
Speaking to Ten News from his Melbourne hospital bed, the Family Feud host and experienced rally driver said it was "chilling" to watch the vision back, even three days later.
"I was kind of in two minds about whether I wanted to see it or not, because I remember it all too vividly," he said.
"I had to decide whether hit the biggest tree I had ever seen head-on, or try to avoid it."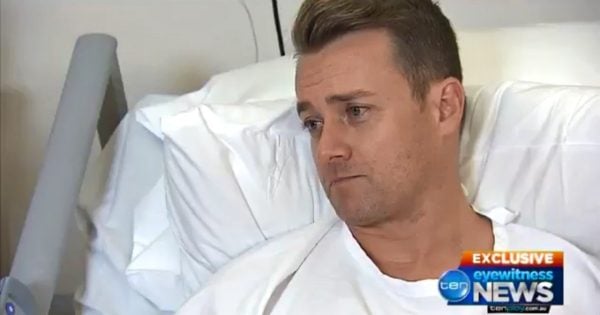 The footage captures Denyer touching speeds of up to 154km/h during Sunday's Lake Mountain Sprint Rally in Marysville, before suddenly veering off course and slamming into a tree stump.
Co-driver, Dale Moscatt, suffered a fractured vertebrae and broken leg in the accident, and had to be freed by Lotus rescuers.
"Dale was in a lot of trouble," Denyer told Ten News, "and I could tell straight away he couldn't move so I did my best to climb back up on the hill and flag down another race car as quickly as I could."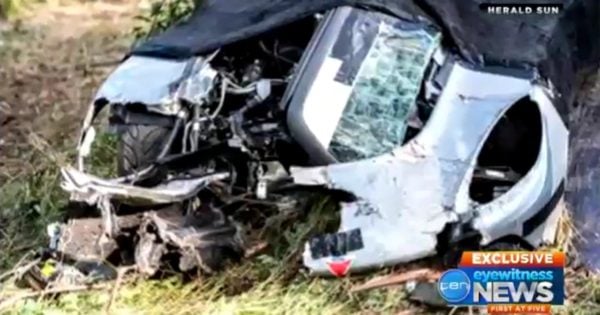 The television host and reigning Australian GT champion managed to escape with a fractures to his sacrum and one finger. While he's currently unable to walk, he says his condition is improving daily.
Denyer hasn't ruled out a return to racing, but noted that he has a wife and two children, aged five and 17 months, to factor into his decision.
"Sunday was the best and worst thing that ever happened to me," he told Ten News.
"It probably makes you reflect on the risks you take. Maybe my risks might be slightly more measured from now on."
An investigation into the cause of the crash is currently underway.
Thank you - just by clicking on this and other content on Mamamia, you are helping to fund education for some of the world's most disadvantaged girls.
Together with our commercial clients and charity partner Room to Read, Mamamia's goal is to be funding 1,000 girls in school each and every day, by June 2020.
Learn more here about our ongoing mission to make the world a better place for women and girls.