It's the crash Grant Denyer says he was lucky to survive. A Lotus rally car, a winding-tree lined road, a vital split-second decision.
And it was all captured via terrifying dashcam footage aired Tuesday evening on Channel 10.
Speaking to Ten News from his Melbourne hospital bed, the Family Feud host and experienced rally driver said it was "chilling" to watch the vision back, even three days later.
"I was kind of in two minds about whether I wanted to see it or not, because I remember it all too vividly," he said.
"I had to decide whether hit the biggest tree I had ever seen head-on, or try to avoid it."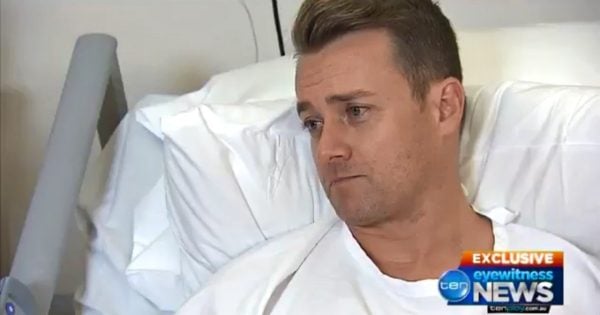 The footage captures Denyer touching speeds of up to 154km/h during Sunday's Lake Mountain Sprint Rally in Marysville, before suddenly veering off course and slamming into a tree stump.
Co-driver, Dale Moscatt, suffered a fractured vertebrae and broken leg in the accident, and had to be freed by Lotus rescuers.