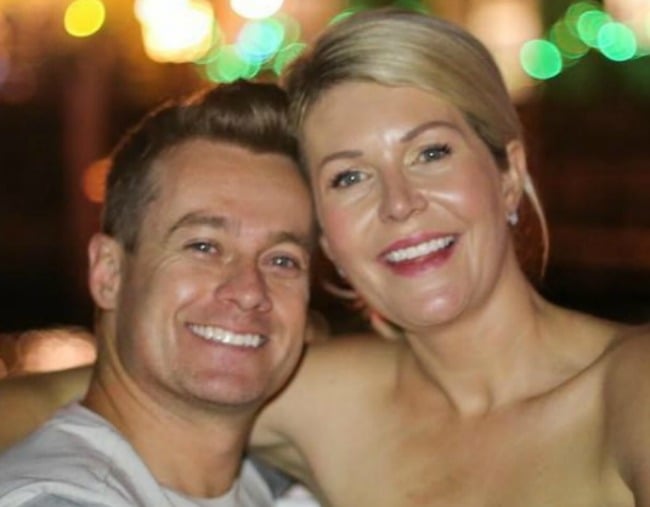 When Grant and Chezzi Denyer met in 2005, it was hate at first sight.
The now married couple were working together on Sunrise, Grant as a presenter and Chezzi as his producer.
As Grant recently told Now To Love, they clashed immediately because they were so similar and had really similar fears.
"She was quite pushy in terms of how she thought I should do things and then I was a smart alec know-it-all who thought I knew better. There was a tug-of-war situation that went on for quite a while until one day, I brushed her hand accidentally and then I just felt this tingle from the top of my head to my toes just come over me," he explained to the publication.
Grant said in that moment he realised he couldn't "live without this woman".
The couple married in 2010 and now live on a property outside of the regional city of Bathurst, with their two daughters Sailor, seven, and Scout, two.
Over the years they faced many ups and downs together.
After Grant broke his back driving in a monster truck rally in 2008, he dealt with severe health problems for many years.
"People don't know the whole behind-the-scenes," Chezzi recently told Stellar.
"Grant had severe stomach problems that made him incredibly unwell. We didn't know if he would survive. It's not terribly sexy, but he had a condition called slow transit constipation… We really pushed the envelope. We kind of thought we were invincible."
Chezzi was also dealing with personal health problems at the time.
After the birth of the couple's first child daughter Sailor in 2011, Chezzi was diagnosed with PTSD, which was brought on by her earlier work as a journalist and the aftermath of Grant's horrific accident.
In the past few weeks, after winning the Gold Logie for his role on Family Feud, Grant has opened up more about that dark time.
"I wasn't quite sure whether I'd be able to walk again so I spent six months lying flat, heavily medicated trying to let it heal… I didn't really cope with that emotionally or mentally," Grant told the Daily Telegraph.
"It was a time where I didn't really give a sh*t whether I lived or died. I felt like I had nothing to live for," he explained. "I reckon if I didn't have my daughter at that particular point, I might not be here."
During his acceptance speech at the Logies, the TV host credited Family Feud for helping to pull him out of that dark place.
"I really wasn't sure if I'd ever work again or if I wanted to," the 40-year-old said on stage.
"I wasn't particularly in a very good place. I wasn't very well. I was in a bit of a hole. I was pretty sad. I was a bit lost and Family Feud came along and I was very unwell at that particular time. And Family Feud gave me a ladder out of that hole."