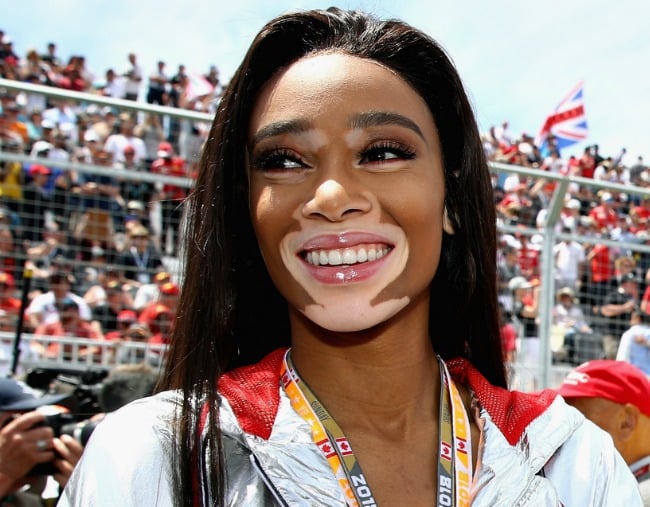 A chequered flag, a discounted fastest lap and a whole lot of confusion have put Canadian model Winnie Harlow into the headlines this long weekend.
Canada's Grand Prix was going along just fine until, in the final moments of the car race, the model unfurled the black and white chequered flag – before the 70-lap race had officially ended.
Thankfully eventual victor Sebastian Vettel realised the mistake and continued the race to the finish – meaning that result wasn't affected.
But the mistake did cost Australian driver Daniel Ricciardo a title. Ricciardo was the fastest around the track during his 70th lap, but won't get credit as "fastest lap" because officials have decided to declare the race 68 laps long and erase the final two laps. This meant his Red Bull teammate Max Verstappen – who completed the unofficial second fastest circuit in lap 65 – was awarded the achievement instead.
Sky Sports F1 expert Ted Kravitz said Formula One management he spoke to said it wasn't Winnie Harlow's fault, although he did point to the end as a reason not all of those involved in racing approve of celebrity flag-holders.
"There is a bit of controversy about celebrities and non-race marshals signalling the end of the race because it leads to chaos like this," he said.
The 23-year-old joked about the mistake on Instagram, saying she was told to wave the flag a lap too early, with the quip "you had one job". And on Twitter, she referenced Shaggy's song "It Wasn't Me".
If you recognise Harlow, but not her name, it might be because she's changed it since she first rose to prominence during her short stint on America's Next Top Model in 2014.
Harlow entered the competition as Chantelle Brown-Young, and went by Chantelle Young, then as Chantelle Winnie, and eventually as Winnie Harlow.