The 58th Grammy Awards opened, as all awards shows now must, with a performance by Taylor Swift.
With all the losses recently, it was always going to be a show rich in tributes and sticky with sentiment, but we were in it for the other stuff, too — the least expected, unscripted moments.
These are the best moments from the 2016 show.
1. Taylor Swift threw some amazing shade at people trying to take credit for her success (*cough* Kayne West)
Taylor Swift called out unnamed people — but let's face it, Kanye West — as she accepted her Best Album award. In a song released last week, he rapped, "For all my Southside n—-s who will know me best / I feel like me and Taylor might still have sex / Why, I made that bitch famous / God damn / I made that bitch famous."
Watch!
Transcript of the speech below:
As the first woman to win album of the year at the Grammys twice, I want to say to all the young women out there: There are going to be people along the way who will try to undercut your success or take credit for your accomplishments or your fame, but if you just focus on the work and you don't let those people sidetrack you, someday when you get where you are going, you'll look around and you will know that it was you and the people who love you who put you there and that will be the greatest feeling in the world.
2. James Corden and Justin Bieber carpooled it to the show.
Bieber doesn't have a Rolls or Uber, apparently, so James Cordon picked him up and was most annoyed to discover they were both dressed like waiters.
Watch Corden and Bieber pre-show.

Oh, and somewhere along the way, the picked up Bieber's super-cute kid brother.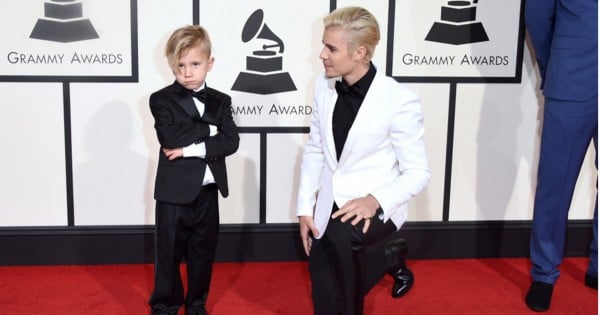 3. Lionel Richie's tearful response to Demi Lovato's version of his song Hello
However, I really do feel they missed an opportunity here. Adele, hello? HELLO?
4. Stevie Wonder mocking everyone for not being able to read braille
"I just want to say before we read the winner that we need to make everything accessible to everyone with a disability," said Wonder, after hilariously taunting everyone for being unable to decipher what the opened envelope said.
5. The live performance of the new musical Hamilton
Stephen Colbert introduces a performance of Hamilton in a live cross to New York. WOAH, people. Woah. I need to get over to Broadway. I applauded from my office chair.
Oh, and then they won Best Musical Theatre Album and Lin-Manuel Miranda — performer, writer, and director of the musical — rapped the acceptance speech. Killed it.
6. Kendrick Lamar performing The Blacker the Berry and Alright in front of fire and in prison chains
Calling it: Kendrick Lamar's performance is the best of the night. The decade, even.It's politically charged, passionate, powerful — it blows everything else away.
7. Adele ending her performance by shouting out Kendrick Lamar
See? Adele agrees with me. "I love you Kendrick, you're amazing!" she shouted in her trademark incongruous Cockney accent after belting out All I Ask (flawlessly, despite technical difficulties).
8. This queen and her band Alabama Shakes taking home three Grammys and killing their performance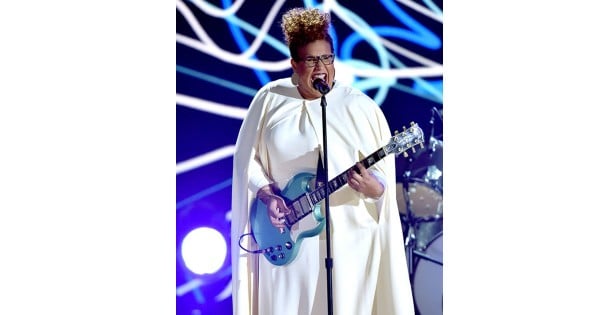 Alabama Shakes won three Grammys Awards today: Best Alternative Music Album for Sound & Color, and Best Rock Performance and Best Rock Song for Don't Wanna Fight. Listen to lead singer Brittany Howard's incredible voice. It makes Justin Bieber sound like a toddler.
9. The tributes
Maurice White of Earth, Wind, and Fire was honoured by Stevie Wonder with an acapella song accompanied by Pentatonix.
Former band mates of Glenn Frey of the Eagles Don Henley and Joe Walsh performed Frey's Take It Easy along with Jackson Browne.
The legendary BB King was covered by Bonnie Raitt, Gary Clarke, Jr and Chris Stapleton, who performed Thrill is Gone.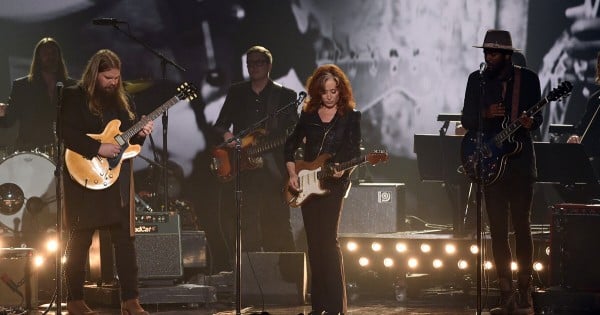 Lemmy from Motörhead had perhaps the oddest one of all. Dave Grohl gave a speech about Lemmy, who died in December, then introduced this monstrous supergroup, known as the Hollywood Vampires, consisting of Alice Cooper, Aerosmith's Joe Perry, Duff McKagen — and Johnny Depp.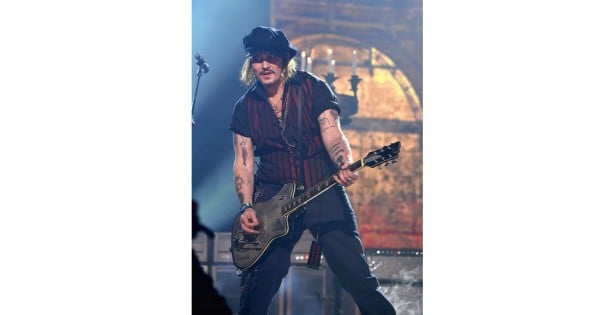 They performed Motörhead's Ace of Spades.
Lady Gaga's tribute to the late great David Bowie was teased for weeks in advance. It was the role she was born to play. She even got a Bowie tatt.  Gaga channelled the artist in all of his stages (complete with orange mullet), beginning with an Aladdin Sane slash on her face and segueing from one song to another, including Space Oddity, Suffragette City, and Fame. I think Bowie would have been most amused.