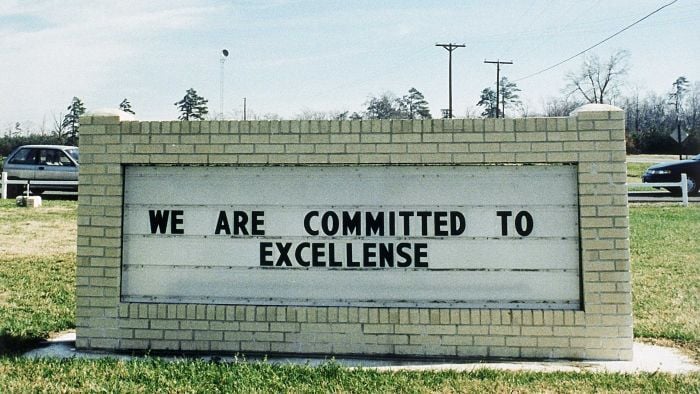 By David Rutledge for Earshot
I saw something on a major news website this morning that provoked a complex play of emotions.
It was the following sentence, from an article about the troubled Pie Face fast food chain: "The one-time, high-flying, hot-pie business has left behind a trail of destruction."
My first reaction was a sense of loathing so thick that I almost struggled to breathe.
Those bloody commas. What on earth are they doing there?
Not only are they redundant, but they completely destroy the sentence, giving it an odd jerky rhythm and calling unwarranted attention to those prosaic hyphenated descriptors.
Speaking of hyphens, since when does "hot pie" get one? What the hell is going on? Are there no subeditors left on the face of the planet?
My second reaction was more meditative, more detached.
Like everything else, language changes, and with change come new conventions, new modes of expression.
Maybe this comma thing is well on its way to accepted usage status, like split infinitives and starting a sentence with "and".
The white-hot fury passed, and in its wake came a serene acceptance. All will be well.
Like baking a cupcake
As a language pedant in recovery, that push-pull of outrage and resignation is something I'm learning to live with. But it's a tension I suspect will never be resolved.
There's a scene in the movie Bridesmaids where Kristen Wiig makes a cupcake.
Her character has recently emerged from the ruins of a one-time high-flying cake-making business (see how much better it flows without the commas?).
She's out of work, out of love, out of prospects, out of money, out of luck. But man, can that girl make a cupcake.
Step by step, she constructs the tiny confection with elaborate care, baking the base, creating an exquisite topping of marzipan leaves and flowers, piping a delicate pattern of whipped cream over the marzipan, and the result is a slightly ridiculous but perfect work of culinary art.
That's how I feel about putting a nice sentence together. It's very much like making the perfect cupcake.
You separate the clauses (comma or semicolon? don't get me started), sift the whole thing for redundancies, dangling participles and unnecessary adverbs, carefully calibrate the adjectival flavours, and like a contestant "plating up" on MasterChef, you dot it with perfectly placed apostrophes. Satisfying and fun!
But it can be a bleak sort of satisfaction, a sad sort of fun. Alone in the kitchen, Wiig regards her cupcake for a glum second before sighing and biting in, chewing with a mournful expression and a blob of icing on her nose.