At least it wasn't an F…?
A rogue grammar Nazi has achieved what many have long dreamed of doing, pulling the cap off a red sharpie and going to town on a terrible display of English.
Their target? A poorly worded real estate board posted in Melbourne's east: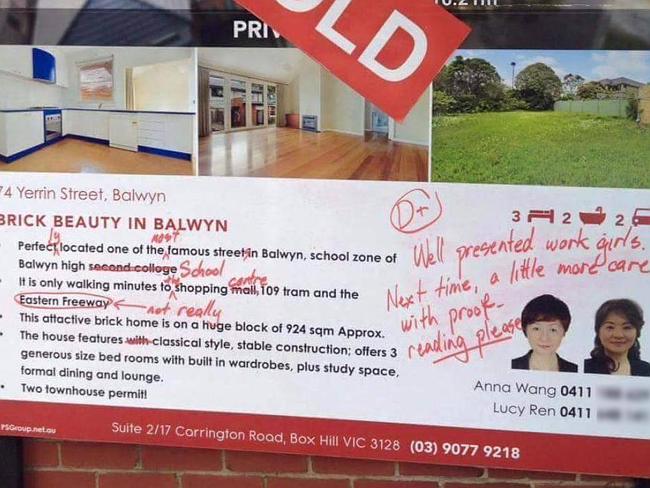 The photograph, taken in December, was posted on Facebook and went viral as scores of like-minded grammar gangstas applauded the move.
MORE: Grammar police unite: The mistakes you can't stand.
The photographer Felicity Humann told the Herald Sun it was spotted by her grandfather on his morning walk, who then took her past for a good ol' language lesson.
"Perfect located one of the famous street in Balwyn, school zone of Balwyn high second colloge," the listing reads.

"It is only walking minutes to shopping mall, 109tram and the Eastern Freeway."

"The house features with classical style, stable construction; offers 3 generous size bed rooms with built in wardrobes, plus study space. Two townhouse permit!"
Though the offending sign managed to score a D+, some were calling the mark too generous:
But it wasn't long before our red-penned rascal was the target of his own success:
As grammar nazis debated furiously across the interwebs, devouring their young as they each tried to be the most correct, the best advice came from Jeff:
MORE: Excellent news for anyone bemoaning the downfall of good grammar.