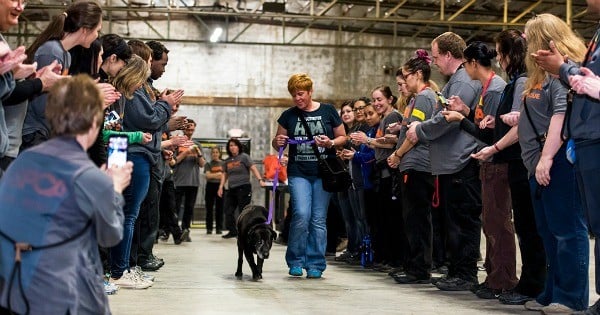 Politics and terrorists and sadness, oh my.
The news has been dominated this week by a lot of bad things.  Bugger that. Here's six news stories that will make you feel better about life:
A whole bunch of abandoned pets found new homes at a massive adoption event.
It was a petapalooza in North Carolina last weekend, where 524 cats and dogs ALL FOUND NEW HOMES. The pets were rescued in January from a shelter that was shut down due to its deplorable conditions. It was hosted by the American Society for the Prevention of Cruelty to Animals (ASPCA), and over 3500 people attended and it was GLORIOUS.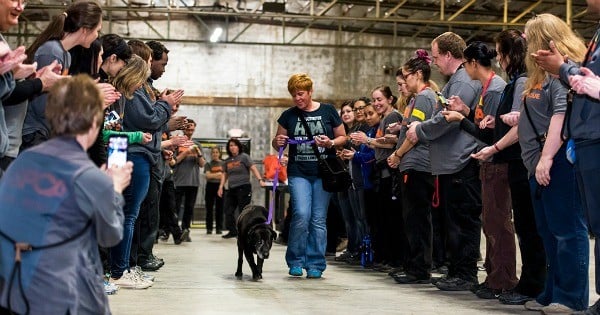 Woman receives cochlear implant: first thing she hears is a marriage proposal.
Two huge things happened for Andrea Diaz this week: she regained her hearing, and she said 'yes' to the dress (and the rest) in a marriage proposal. When her doctor switched on her cochlear implant for the first time, she heard two of the greatest things in the world: her mother's voice telling her that she loves her, and her boyfriend Kevin Peakman popping the question. Just try to hold back the tears with this one, we dare you.
Canberra mums are making all 104 cakes from The Women's Weekly Birthday Cake Book.
The cakes will be auctioned off for charity and they're looking for bakers to participate. The cakes will be judged for 'love and flair' and will be sold via silent auction. Registrations zre open on the PANDSI website now. 
'Hello Stranger!' is a running club we actually want to join.
Locals in the Swedish town of Östersund have formed a unique running club, 'Hej Främling!' (Hello Stranger!) to help refugees integrate into their community. Skiers Emma Arnesson and Anne Lundberg started volunteering to help asylum seekers adjust to life in the ski-resort town back in 2013, where they taught more than 300 refugees how to ski. Runners Martin Machnow and Christine Hagglund heard about their work and offered to help with summer sports – and so 'Hello Stranger!' was born.